I'm so behind on this obsessive column that too many DVD's have passed by to recommend. You know which ones to buy. So I'll just get right into, as Liz Taylor would say, the meat of things.
I'll try to stay on top by next week but in the meantime, check out my Film and DVD reviews at Strange Impersonation and anything else I'm thinking, or rather my relationship with stuffed animal claw machines at Pretty Poison.
As for now, three obsessions: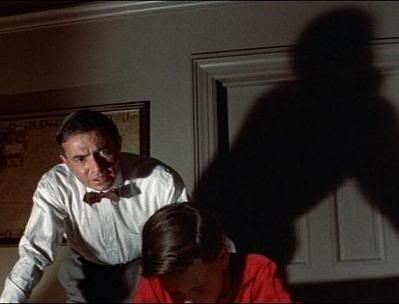 1. Bigger Than Life Why oh why is this Nicholas Ray classic not on DVD? It never even found its way to VHS either, sad since Bigger than Life is one Ray's most interesting, sociologically damning pictures. It also boasts one of cinema's most horrifying fathers, James Mason's Ed Avery. A picture perfect 1950's schoolteacher at first, his personality changes drastically after discovering he's suffering from a potentially fatal illness. He becomes a guinea pig to the new drug cortisone and essentially, loses his marbles. Like many drugs, it's wonderful at first -- he feels better -- but the side effects are worse than anything you'll hear listed during a Lipitor, Zoloft or Wellbutrin commercial. It's not that he loses his sex drive (though that's not addressed in the picture) no, he turns into a megalomaniacal psychopath with murder on his mind -- chiefly the murder of his little son. Shot in bold, brilliant color and beautifully composed (the shots of Mason lording over his son in shadow are especially powerful), the father-as-God story is horrifying but in the end, incredibly sad. A terrifically dark explication of the cookie cutter 1950's family (was anyone really that perfect cookie? No.) and an interesting early indictment on prescription drugs, the picture was of course, a massive flop upon release. The whole daddy's gonna kill you aspect was more than likely tough going for audiences taking in those glorious Technicolor frames.
And... is it me, or is it strangely refreshing to watch repression unleashed in such a psychopathic way? It may be related to recently watching Interiors and secretly wishing someone like Mason would just smash all of those clay pots Geraldine Page is so fucking obsessed with. Or drug that drippy Sam Waterson with some cortisone. Anything.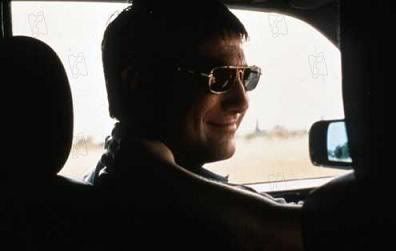 2. With A Friend Like Harry (A.K.A. Harry He's Here to Help) Dominik Moll directed this superb thriller that turns a family's summer vacation into not only a dance with death but an existential breakdown. The story finds married man Michel (Laurent Lucas) meeting a strange guy in a roadside men's room (which is already off – meeting a man while washing your hands). That guy is the well to do Harry (a brilliantly beguiling Sergi Lopez) who claims to have been high school friends with Michel – or perhaps not. Though Michel doesn't remember Harry, he half heartedly, though curiously allows the man and his girlfriend to visit their in-progress summer house. Harry will then uncomfortably insinuate himself on the family leading to all sorts of behavior that reveals not only how off Harry is, but Michel's beleaguered family man existence. Harry's obsessed with Michel, and with that, unleashes contempt for anything in Michel's way – especially the wife and kids – something Harry views as soul suckers, taking away Michel's artistic power. But is it really Harry, or is he some manifestation of Michel's stunted creativity and familial bitterness? And that is all I'll reveal about this splendid, darkly humorous yet almost blissfully horrifying picture – a movie that earns bonus points for making a sociopath "friend" almost as hellish as working on home repairs. And there's a screaming moment in a car (I love automotive mental breakdowns on film) that is so fiendishly satisfying that, many of us, even us non-sociopathic mystery men intent on offing another man's family, will understand. Some of my most homicidal moments have occurred in an automobile.
3. Crosby and Astaire in Holiday Inn Everyone loves White Christmas but I prefer the messier, dysfunctional Holiday Inn, the movie in which that famous tune is first heard (though Bing Crosby only hums "White Christmas"). Sexy crooner Crosby (Yes, Bing Crosby is cool-eyed hot. Just don't read Donald Shepherd's The Hollow Man in which Bing comes off an alcoholic sadist, but... that just makes him even hotter..) plays a retired singer whose idyllic existence managing a Connecticut Inn becomes tangled up in drama (very light drama, mind you) when his ex-partner (Fred Astaire) comes to visit. The movie is thin but with Bing and Fred overflowing, it manages to become that annoying word your Aunt might use: delightful. (Wait, I've used that word. Give me a viral slap me next time I do that). Peppered with festive songs like "Happy Holidays" and "Let's Start the New Year Right," it's a blast, but it's Astaire's dancing-- chiefly (and quite literally) his "don't try this at home" "Say It With Firecrackers" number, during which the graceful hoofer throws lit firecrackers on stage and tap dances to their sparkly pops, that is absolutely sublime. And yeah, hot.