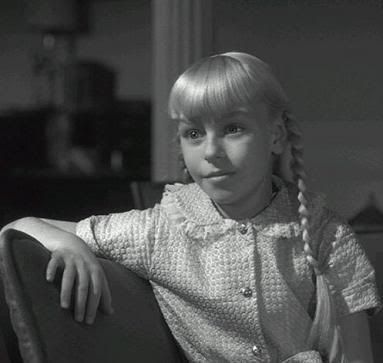 Ah…the baby blonde. That symbol of purity, beauty and goodness. In 1950's America who wouldn't want to have a lovely, flaxen haired child to adore and spoil? Everyone, of course. But by 1956, two important films emerged -- showing the underbelly of these perfect specimens. The more esteemed, and notorious (it was condemned by the Legion of Decency) was Elia Kazan's Baby Doll, in which the gorgeous child bride Carroll Baker destroys Karl Malden's masculinity whilst sleeping in a crib and sucking her thumb (never mind she's 19 going on 20). While other relevant issues pervade Kazan's masterful take on Tennessee Williams, the lingering image is of Ms. Baker in that crib…an iconic vision of arrested sexuality.
But just as viewers took a gander at Baby Doll, they had another blonde to contend with -- a much younger, smarter and deadlier one -- The Bad Seed. Pretty 10-year-old Patty McCormack playing an 8- year-old in pig tails and pinafore skirts as Rhoda Penmark, a curtsying, cutie-pie brat who'll manipulate, terrorize and kill anyone who gets in her way. Both actresses' were deservedly Oscar nominated for their performances but it's Mervyn LeRoy's picture, though much loved by cultists, that remains highly underrated.
Part of the problem may lie in the transfer from play to film. LeRoy rightfully transported nearly all of the actors from the successful stage play (most likely to the annoyance of Warner Brothers who probably desired a bigger star for Rhoda's mother) but was forced to change the ending. In the play, an unstoppable Rhoda continues her evil while after her killings, she chillingly plays her continual practice piece, "Claire de Lune" on the piano. Perfect. In the picture however, she is socked with a lightning bolt. O.K, also perfect. But, (and I'm not endorsing the harm of children here, even evil children), Warner Brothers made LeRoy further punish Rhoda, or in this case Patty, by having cast members spank little McCormack --assuring the audience this was all a bunch of fun. You know, burning, drowning, murdering kids with tap shoes -- fun!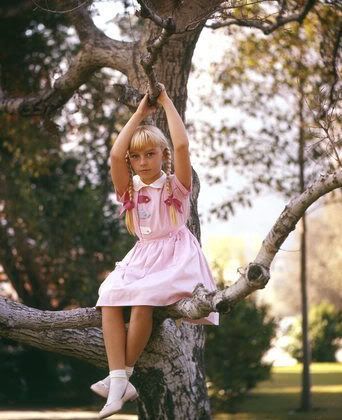 And yet, in an early bit of camp -- The Bad Seed is fun. Gleefully, unapologetically and relevantly fun. In its own way, the end changes just make the picture even more inadvertently subversive. How we love to hate little Rhoda. And for some of us (myself included), how we love to love her…she's just too damn full of vicious personality. I even go so far as to nearly (I say nearly) champion her actions and wish she would invoke more harm (film wise) before her inevitable demise.
But enough of my sick adoration and to the movie itself. Living with her mother Christine (an understandably neurotic Nancy Kelly) and mostly absent father (William Hopper -- Hedda Hopper's son) Rhoda's life is one of privilege and attention. When kissing her father goodbye he asks "What would you give me for a basket of kisses?" Rhoda coos back: "A basket of hugs!" Landlady and supposed expert in psychology, Monica Breedlove (Evelyn Varden) dotes on Rhoda, applauding her out-moded manners and showering her with presents -- one being rhinestone movie star glasses that Rhoda, of course, loves. As she prattles on about Freud and abnormal psychology, the rather ridiculous Breedlove cannot see the freakish behavior in front of her. She's blinded by all that bright, beauteous blonde.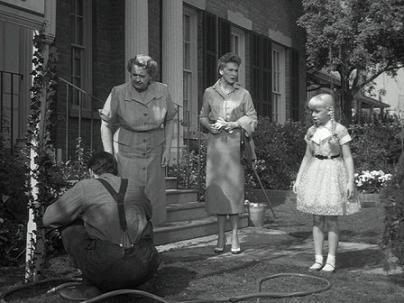 But Leroy (a scene stealing Henry Jones), the disturbed, somewhat perverse handyman disrespected by the household can see right through Rhoda (you even get a sense he's got a thing for her), leading to some of the picture's most inspired moments. Man does Leroy dig into snotty Rhoda after a fateful class outing leaves one child dead; not coincidentally, the class-mate who won the penmanship medal over the all perfecting Rhoda ("Everyone knew I wrote the best hand!" she hollers in sour grapes dramatics). The little boy is drowned and Rhoda returns home as if nothing happened. "Why should I feel bad? It was Claude Daigle got drowned, not me" she insists. And then she goes roller skating. Meanwhile, her mother becomes increasingly rattled and the boy's mother (an inspired, heartbreaking Eileen Heckart).
Though some have a tough time with The Bad Seed's talkier sequences (especially when Rhoda's not around), to me they are an intriguing look into ideas that would later be seriously considered, scientific even. They also point out how psychology can't explain everything (hence, a bad seed) as the one woman (Breedlove) who brags of her knowledge, fails to sense anything wrong with a child who is, at the very least, self obsessed to the point of vapid narcissism. Never mind she's a murderer.
And, the golden moments come, again, between Leroy and Rhoda who argue like two prison inmates waiting for lockdown. Though Rhoda finds him revolting, he's the only adult who can actually frighten the child with his taunts of "stick blood hounds" or the dreaded electric chair, a fate he swears she'll meet. "They don't send little girls to the electric chair!" Rhoda protests. "Oh they don't?" He answers. "The got a blue one for little boys and a pink one for little gals!"
Though films like The Omen or The Good Son have tried, nothing compares to The Bad Seed -- and no child actor has out-seeded McCormack. Calm and cool, she can also rip into fits of rage that are both terrifying and hilarious. Perfectly balancing a disarmingly adult demeanor with the tantrums of a little girl, her performance is even more impressive in that it's the blueprint. Where did McCormack learn this wonderful balance of over-theatrical camp with an icy, realistic serenity? And before John Waters became obsessed with her?
A classic and first of its kind, the then shocking Bad Seed holds up, albeit with a tad more camp, but with just as much psychotic gusto (I'm not sure what to think about the talked about re-make). Revel in McCormack's Rhoda, a character even the obnoxiously talented Dakota Fanning couldn't play. Agree with Leroy who spits out: "I thought I saw some mean little gals in my time, but you're the meanest!" And, what the hell, worship little Rhoda -- the itty bitty ultimate queen bitch goddess.