Here's a tip to writers. If you have a delicate disposition, a thin skin, don't write about Lindsay Lohan. Don't defend her anyway. Keep subjects to Dick Cheney, the war in Iraq, Michael Moore -- whatever -- just stay away from La Lohan, a young woman who, according to the loads of email I received from my MSN essay, is a blight on society, the gatekeeper to Gomorrah.  Which, in turn, makes me something like the Queen of Sodom. Based on my belief that Lindsay endures intense media scrutiny and is talented, surely I must be, as one reader wrote, servicing the starlet. Yes, yes. Linds and I are like Laura Harring and Naomi Watts in Mulholland Dr., only, I'm Watts after that mysterious box is opened and I've become so suicidally obsessed that I'm moping around my Hollywood apartment doing crazy things like…writing an essay about Lindsay Lohan.   
But to be serious, I stand by my take on Lohan, even though I wrote this piece before her recent arrest. I wrote it, in fact, over two weeks ago, while sitting in my sleeper car on a train, stuck in the middle of Kansas for over three hours during a lightning storm and tornado warning.  The entire process of writing this piece has been well, aptly dramatic. But I have no regrets. I'm still in Lindsay's corner onscreen, and off. 
Viva La Lindsay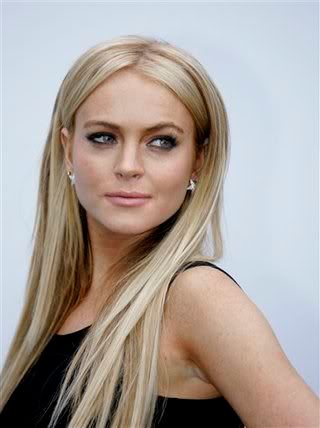 Leave Lindsay Lohan alone. I'm serious. Just leave that girl, or, at this point, that woman and, lest we have forgotten, that actress alone. Why? Because all this negative attention concerning her personal drama deflects from what she does best: act.
That's right, act. Forget the freshly 21-year-old's stints in rehab (or rather, her time to reflect on healing, cheeseburgers, boys and the next time she might hang with Karl Lagerfeld), because despite tabloid fodder -- be it real (her lateness, her un-professionalism on set, her DUI, her alleged cocaine problem) or imagined -- she is an actress, first and foremost. And when cast in the right role, she's an interesting one at that.
And yes, I know she seems to court controversy and even brings it upon herself -- ever thought of staying in one night and simply watching or reading Valley of the Dolls, not living it, Lindsay? I only wish her mother, Dina, would stress the implications of overpartying to her child and point her not to Los Angeles' notorious hot spot, Forty Deuce, but instead to its legendary film and drama bookstore, Samuel French. While among books ranging from the films of director Howard Hawks to the plays of Ibsen, Lindsay could study up on Bette Davis, Jane Fonda and Elizabeth Taylor, women who themselves endured intense scrutiny, and in some cases public hatred, yet emerged not only as Oscar winners but also as legends. Sure, they didn't have the same round-the-clock Internet surveillance and predatory paparazzi covering their every move (can you imagine if poor Patty Duke, who suffered from bipolar disorder, or the luminous Tuesday Weld, who was drinking before she was a teenager, had to endure such vampirism?), but they did undertake a fair share of controversy.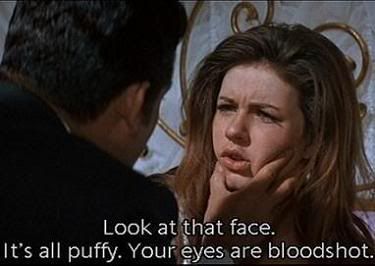 Now before you claim I'm comparing La Lindsay to Dame Elizabeth or my beloved Tuesday Weld, I'm not -- not entirely. Lindsay hasn't lived long enough, she hasn't nabbed enough meaty roles, she hasn't exposed her extra layers of depth to the extent she's clearly able -- and looking at her family, you know she's got a lot from which to draw. But plenty of other sexy stars from the golden period (Lana Turner, Ava Gardner, Marilyn Monroe) had to prove themselves past their obvious sexuality while using their genetic gifts with sparkling, salty charisma and, when given the chance, their major league acting talent. The big screen loves talent, but it also loves a gorgeous face. Lindsay has both.
Nowadays the smaller screen (Internet gossip) and smaller mags (Us, Life & Style, Hello! and my evergreen favorite, National Enquirer) seem to only love a gorgeous face when they can cut it down to size -- or in the case of rich boy Brandon Davis, so eloquently label it as "firecrotch." Though I know certain stars from the past spewed plenty invective toward their peers (Harry Cohn was renowned for calling the gorgeous Kim Novak "that fat Polack"), they didn't have TMZ filming their every angry, cruel, drunken outburst. And as much as I find the long-standing Hollywood rags entertaining and even amusingly written at times (though so many are far too witlessly mean-spirited), I worry the endless coverage may damage certain other actors genuinely trying to develop their careers, unlike "actors" such as that woman who flashed her unmentionables while exiting a Mercedes. I can already hear you saying, 'They should be more careful; they're in the public eye...'  Reallly? When you think about it, and think about it in the grand scheme of life, who cares? Who cares if an actress doesn't wear underwear? Why has the entire nation turned into one of Lindsay's movies, Mean Girls?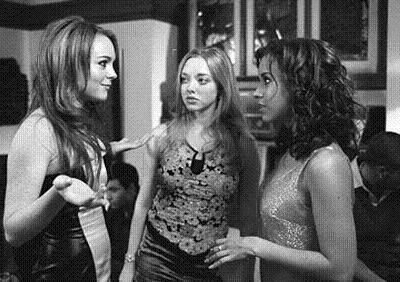 To further this assertion, I don't entirely care what so-and-so movie writer from whatever newspaper or Web site feels about Lindsay's partying or sexy lifestyle (there's a strong strain of misogyny in this kind of critique). The real question is, can she act? And if so-and-so movie critic doesn't think she can act, then I can only wonder whether he or she is judging the actress for her offscreen behavior. If critics assessed Jack Nicholson for his offscreen behavior, he might not have the Oscars he so richly deserves. And I won't even get started on legendary lothario Warren Beatty. And then there's Richard Burton, Peter O'Toole and Dennis Hopper. Oh yes, and perhaps Colin Farrell or Sean Penn ring a bell.
I revere these men for their work and for their legend. But these are movie stars, for heaven's sake! Since when are they role models? How boring Hollywood would be if stars had absolutely no scandal in their lives. Lindsay's antics aren't anything new -- actors have often been wild, especially young ones. From early actors such as Clara Bow (who for a time was shunned from "decent" Hollywood society) to current star Angelina Jolie (she may be a saint now, but she used to wear vials of blood and yammer about limo sex with Billy Bob Thornton, and I loved her for it), the world has punished mostly the female wild actors, while simultaneously reveling in their photographs, fantasizing about their bodies and downloading their boring drugs/sex/or whatever else videos from the Internet.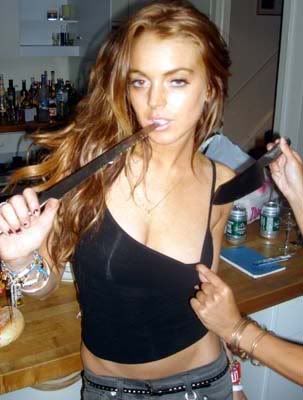 Here's a thought: How about when a young, talented female star veers out of control, we root for her? If we actually like an actress on-screen, we want to see her writ large and in charge. As for me, I yearn for Lindsay to get back on track -- but nowhere near tracks.

Lindsay, the girl we so adored in Disney's remake of Freaky Friday or who we grew an almost uncomfortable crush on in writer Tina Fey's whip-smart Mean Girls, was and still is full of promise. Sure, she sent some perplexing "Be adequite" message in her condolence letter to Robert Altman's family after the brilliant director's death, but at least she...tried. And the fact that Altman, one of cinema's greatest directors, cast Lindsay in A Prairie Home Companion says a great deal. Altman worked splendidly with actors and trusted them immensely. Do you think she was cast simply as a lark? And she was terrific in that picture -- natural, dryly funny and human, which says a lot considering she co-starred with Meryl Steep and Lily Tomlin.

Let's also give Lindsay a break for Georgia Rule. The movie wasn't grand cinema but not because of stars Lindsay (who was interesting and effectively wounded), Felicity Huffman or Jane Fonda. Really, if the movie was good enough for Jane freaking Fonda to star in, then why does Lindsay get raked over the coals? Jane's father was Henry, an American institution; Lindsay's father is a felon, so cut the girl some slack.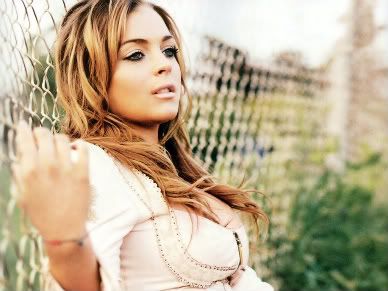 Lindsay next appeared in I Know Who Killed Me, a movie mocked on the Internet ever since the ominous, darkly sexy trailer with Lindsay in all her undulating glory hit the Web. The trailer's release was perfectly timed with those ominous and, let's face it, darkly sexy knife photos in which Lindsay and Vanessa Minnillo held cutlery to each other's throats in a party prank that made other revelers uncomfortable (in my world, that's when a party starts getting fun), and the result was that Lindsay-loathing hit an all-time high. She's become part of an unholy trinity with Paris Hilton and Britney Spears, which some writers call "The Three Whores of the Apocalypse." Nice.

Lindsay simply doesn't deserve that appellation. With her sexy redheaded locks (or blond, or brunette -- I prefer the red Linds), her adeptness at sweetness and cynicism, and the pathos she can actually wring from wronging one of her friends in Mean Girls, the girl's got, as they say, chops. I seriously hope her upcoming films Chapter 27 and the in-production, aptly titled Poor Things (starring another fiery redhead, Shirley MacLaine) show as much, because I want Lindsay to grow and challenge herself as an actress.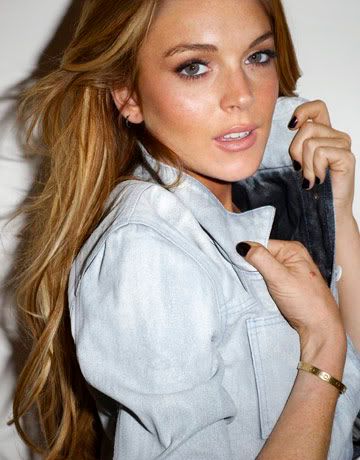 She has made some career mistakes -- but what actor hasn't?  She turned down the Dylan Thomas-based drama The Edge of Love (aka "The Best Time of Our Lives") starring Keira Knightley. The industry is getting mighty fed up with her (according to a recent New York Times story, some producers and studios are removing Lohan from casting lists, claiming she's unreliable and, worse, not sober). She also exited The Loss of a Teardrop Diamond (Bryce Dallas Howard is now in negotiations for the part), which is the film version of a recently unearthed Tennessee Williams' work about a brazen 1920s Memphis debutante. Is this role not perfect for Lohan? Plus Viva-Las-Vegas-a-licious Ann-Margret would have played her aunt! Double perfect! But let's remember again. She worked with Robert Altman. She worked with him beautifully.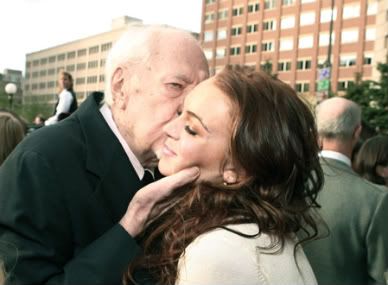 Because Ann-Margret is a hero to Lindsay (which earns her major bonus points) and Tennessee Williams is a marvelous place for fractured women to exorcise their demons, her exit from the film is especially tragic. If she never gets to act with Ann, I say, forget the Promises rehabilitation facility. Bring on the real Kitten With a Whip herself. Could a one-on-one between these two Pleasure Seekers be too much to ask? Could a Carnal Knowledge, the movie version, not the real life version, be in Lindsay's future? She could take it on. That little girl has lived. Give her a damn chance. You will eat your finger wagging words.