Men and women donning drag is a time-honored tradition that doesn't seem to be abating. Whether the gender-bending-inclined strut their stuff in the films of Monty Python (the Brits have a long history with drag -- think of those Shakespearean plays in which the men acted out all the parts), don disguises for whatever (ahem) hair-raising purpose (Some Like It Hot, I Was a Male War Bride), or simply enjoy being a man as a woman (Hairspray or The Crying Game), cross-dressing has always fascinated moviegoers. Not only do we find it amusing, we also see something of the masculine femme in ourselves through these characters -- Albert Kinsey would have had a field day with all these cinematic depictions of cross-dressing.
The newest drag is the remake of the musical Hairspray, originally directed by cult filmmaker (and favorite interview) John Waters (one of the earliest proponents that drag can be absolutely Divine). Though the picture features an all-star cast (Michelle Pfeiffer, Christopher Walken, Amanda Bynes, Queen Latifah, Nikki Blonsky and Brittany Snow), we're here for John Travolta, a mostly macho actor who reprises famed drag queen Divine's role as the overweight but unstoppable Edna Turnblad. So in honor of all those brave and finely coiffed dragsters that came before him, I've come up with ten of my favorite cinematic gender benders, choosing a sexy six here.
Ed Wood (1994)
Though Tim Burton's Ed Wood is a wonderful valentine to those Z-filmmakers toiling in the nasty business of Hollywood and it chronicles its titular character with the renown he deserves, it's a terrific look at cross-dressing -- in the 1950s, no less. The director of the notorious Plan 9 From Outer Space (a picture considered one of the worst ever by people who clearly don't watch enough movies) is depicted by a brilliant Johnny Depp (he's over the top without losing his humanity) as a tireless promoter, an idea man (even if some of his ideas were questionable) and, as we find out, a man who loved to wear women's clothes. He also loved women, but his passionate secret for soft, fuzzy sweaters was poured into his most personal film, Glen or Glenda?, in which he starred. Though naysayers will write the movie off as mere camp, the ideas are far ahead of their time.
Female Trouble (1974)

What would a list about drag be without Glenn Milstead? If you've never heard of Glenn Milstead, you might recall him crouched down in a dress, eating perhaps one the most unsavory and inedible things known to man and even some dogs. Yes, I'm talking about the aptly named Divine, a John Waters superstar who committed this disgusting deed (for real!) in Waters' classic cult film Pink Flamingos. Though Divine acted in a few movies as a man, he's best known for his outrageous getups that went against the grain in drag-queen-dom -- he didn't want to look pretty, instead fabulous, but on his own terms. He made many pictures with Waters (including the original Hairspray -- wonder what the late Divine would think of Travolta taking over the role?). But my favorite is Female Trouble. The movie personifies what makes Divine so unusual, hilarious, weirdly gorgeous and subversively disturbing. As Dawn Davenport, the rebellious teen who attacks her family on Christmas for not getting cha-cha heels, she winds up joining a pair of fashion terrorists who mix beauty with violence. It might sound ludicrous, but when you think about all the plastic surgery or five-inch heels women wear, it really isn't. It's a cuss-filled lark, but a strangely political one, made all the more meaningful with Divine being well, so damn divine. Oh my God I love it when they drag Taffy up the stairs...
Sylvia Scarlett (1935)

Long considered one of George Cukor's strangest pictures with Katharine Hepburn (they made A Bill of Divorcement and Little Women to much success), Sylvia Scarlett was a bomb upon release. But it's really something of a complicated masterpiece -- an early act of sexual subversion that found Cukor's Kate in drag, and, in one of the picture's more unforgettable scenes, kissing another woman. After some unfortunate, illegal circumstances involving her father, Hepburn cuts her hair, dons menswear and hits the road as Sylvester. Along the way she meets a handsome cockney con artist (Cary Grant) who eventually becomes her partner in crime. All sorts of other things happen in this picture -- things you wouldn't expect -- and it takes on a darker, more realistic tone that probably didn't sit well with viewers. It also featured a character who brought out homosexuality in men and women. Both sexes fall for Kate in drag. For 1935, that's a pretty radical concept.
The Rocky Horror Picture Show (1975)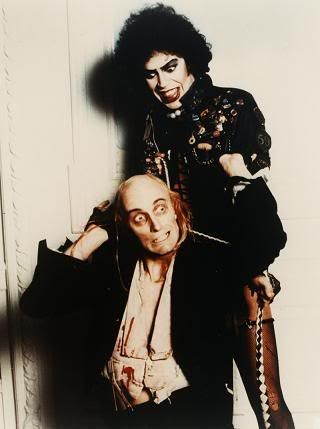 I've asked quite a few straight men if they think Tim Curry's Fran-N-Furter in The Rocky Horror Picture Show is just a little sexy. The answer (from honest male friends) is usually a declarative hell, fucking yes. That this voracious man, who looks pretty damn good in fishnets and high heels, stirs up hormones usually reserved for pretty girls is testament to Curry's spectacular creation. But that's not entirely surprising. The picture was released in 1975 at a time when all kinds of gender bending rock acts had reached mass popularity (Bowie, Jagger, Bolan). The long-running bisexual rock-musical film (directed by Jim Sharman) is a cult classic and pop-culture phenomenon. The plot follows all-American squares Janet (Susan Sarandon) and Brad (Barry Bostwick), who find themselves stuck in the isolated castle of Frank-N-Furter. If you've seen the picture you know all kinds of insanity, tuned to some unforgettable music, ensues, chiefly via Curry whose anthem, "Sweet Transvestite" is not only one of the picture's highlights, but a hyper-sexy paean to being who you want to be, sexing up whichever gender you like, and generally freaking the square-villes out. No wonder so many rabid fans celebrate this movie -- women's clothes or not, being a so-called "freak" is sometimes something to sing about. Preferably with a boa, black stockings and black lipstick. Jesus, Tim Curry is really hot here.
Tootsie (1982)

Recently, Dustin Hoffman discussed his role as Tootsie for the AFI and admitted near tears (yes, he gets that emotional about Tootsie, and somehow I can't blame him) that the role made him more sensitive toward women. In Sydney Pollack's incredibly enjoyable picture, Hoffman plays an actor who is so un-hire-able, that he resorts to dolling himself up for a soap-opera role that will become, in spite of the odds, world famous. Those odds directly relate to Hoffman's appearance as dowdy Dorothy -- a woman who looks more like your homely fifth-grade teacher than an up-and-coming soap-opera star. But part of Dorothy's charm is her no-BS attitude. Hoffman's controversial decisions to riff off the script with observations about sexual inequality (the unscripted cattle-prod scene is priceless), make him a smash. Of course there's that pesky attraction to a lovely Jessica Lange, which he can't exactly indulge while wearing control-top panty hose, but the film is smart enough to use the typical romantic love interest as a way to show how unfairly she's being treated. Tootsie knows that Hoffman in drag is funny, but it has a lot of sensitivity and smarts behind it. It makes you, as Dorothy proclaims in a particularly rousing soap scene, "very proud to be a woman." I am so not ashamed of loving this movie.
Some Like It Hot (1959)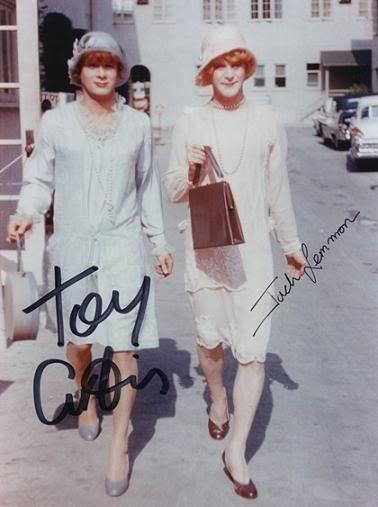 I know this was such the obvious choice, but for good reason -- drag or not, Billy Wilder's Some Like It Hot is one of the greatest comedies ever made. After jazz musicians Tony Curtis and Jack Lemmon witness a gangland murder (via the great George Raft as Spats Colombo), the two go on the lam as female musicians singing in an all-girl band. Curtis (now the classier, maternal Josephine) and Lemmon (the more good-time gal Daphne) board a train where the hot-to-trot Sugar Kane (a gorgeous Marilyn Monroe) is part of the girl group. And what a train ride, specifically when Daphne is surprised to find a negligee-clad Sugar climbing into his upper berth for comfort and girly snuggles. What makes "Some Like It Hot" so fascinating though, is that it truly observes the politics and inequities between men and women and that (shocking!) some men may not mind being a lady so much (check Daphne's serious consideration of taking a wealthy man's hand in marriage for "security!"). And though we know this is Curtis and Lemmon, the two actors kind of look like women (or perhaps our willing suspension of disbelief makes us think this is so). Curtis was always a gorgeous creature (the boy with the "Ice Cream Face," as Burt Lancaster famously pointed out in Sweet Smell of Success), and Lemmon is so likable that what woman wouldn't want to be friends with him? Wilder's picture covers a lot of subversive ground here, especially by film's end when finally, Daphne pulls off his wig and informs admirer Joe E. Brown he's a man. Brown, who likes her regardless exclaims: "Oh well, nobody's perfect."
Tweaked from my MSN story "Life's A Drag"-- Read the rest of my list here.