This weeks DVD's were a notable lot. There was La Jetée/Sans Soliel: The Criterion Collection, Shooter, Warner's Cult Camp Classics 1-4 which includes, among other gems, Caged, Hot Rods to Hell, Attack of the 50 Foot Woman and Joan Crawford's favorite movie, Trog. And then there's my favorite release, the Southern fried, radiator romp Black Snake Moan. Make sure to read my original review of Craig Brewer's picture here. Decide for yourself if I'm way too into this shit.
And check out my Film and DVD reviews at Strange Impersonation and anything else I'm thinking at Pretty Poison (specifically, my take on Nancy Drew).
As for now, Three Obsessions: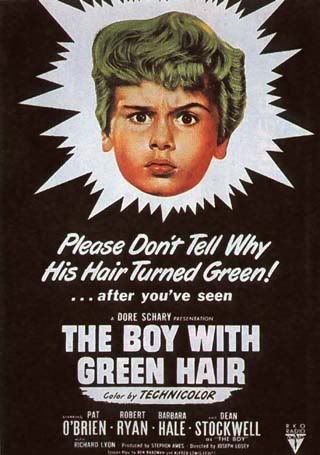 1. The Boy with Green Hair (1948) I recently came back to this movie after writing a story on green characters in cinema (yes, green characters in cinema) and though it verges on heavy handed, the picture contains such an odd, yet human feel that for me, it never teeters over the edge. First off, there's runaway boy Peter (an impossibly cute Dean Stockwell), a war orphan who moves in with the kindly old gramps (played by Pat O'Brien) and whose hair inexplicably, shockingly turns manic panic green. Taunted by the townsfolk, Peter runs away in sadness. But when he's visited by other war orphans in the woods (remember, this is a strong allegory and message film) he's galvanized and returns home to deliver the message that war is not only wrong, but, get this, bad for children. But fear of the unknown, a.k.a., that green hair is just something the townsfolk cannot accept and the jerks chase poor Peter down. The picture has remained both a cult curiosity and an intense fable regarding our nuclear program, war and, of course, the power of being different. Kind of covers it all—should be required viewing in every middle school. It also stars Robert Ryan and anything with Robert Ryan is worth watching.
2. The Changeling (1980) God this movie is sad. It's truly more melancholic than scary but the melancholic tone just underscores the terror – its depressive darkness is what rattles me so much. Peter Medak directed and a powerfully lonely George C. Scott stars as a musician who moves into a house haunted by what he learns is a dead little boy. When we discover what happened to the child and all those sounds of loud knocking are not coming from something like, say, the radiator, the revelation isn't one that makes us feel any better. This isn't let's solve the ghost story and move on with our lives but, let's solve the ghost story and learn how truly monstrous a parent can be. And then there's that red rubber ball—something that scared the crap out of me when I was a little kid. One of the film's creepiest moments has Scott throwing the thing over a bridge only to return home to that same ball, bouncing down the stairwell, wet.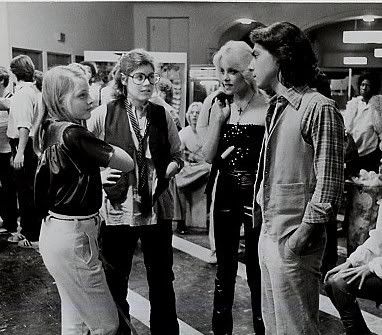 3. Foxes (1980) And we think young girls today are over-sexed, coked up and wild. Please. Take a look at Adrian Lyne's entertaining yet telling and I think incredibly realistic debut film Foxes, an intriguing picture for having such a sympathetic take on female rebellion (this wasn't simply a scare tactic picture a la 13). Starring Jodie Foster, Marilyn Kagan, Kandice Stroh, and Cherie Currie (appropriately famous for helming the great all-girl rock band The Runaways), the movie follows four San Fernando Valley girls as they venture into the mean streets of Hollywood for parties, boys and concerts. Some, like Foster, have a pretty good head on their shoulders while others, Currie, are on the road to ruin. It's a sexy movie (remember, it's Adrian Lyne of 91/2 Weeks, the underrated Lolita and Fatal Attraction fame), but again, quite sensitive towards these girls, as they are not depicted as a bunch of airheads—they're restless for a reason. And truly, Cheri Currie was the (cherry) bomb. Below shows the irrefutable evidence.