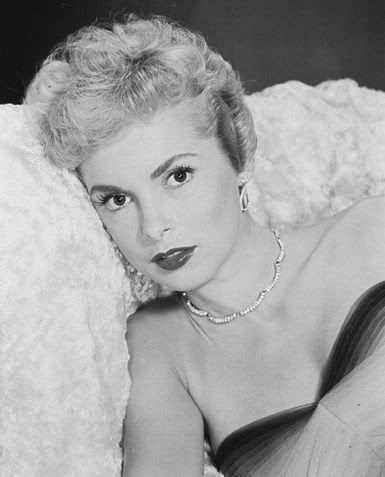 Janet Leigh passed away in 2004 but today the talented, gorgeous actress would have been 80-years-old.
She's of course, most famous for Alfred Hitchcock's Psycho (and for good reason). But I'm also quite fond of the actress in Orson Welles' masterful Touch of Evil in which she's both mad sexy and intelligently saucy. I love this woman (and mother to Jamie Lee Curtis with Tony Curtis, who's still kicking, God bless him and his Sweet Smell of Success "ice cream face").
But back to Leigh--I want to thank her for being such a great actress. And looking so damn good in a skirt, a sweater a bathing suit and a shower. So let's celebrate Miss Leigh's birthday with a Janet Leigh film fest. Skip Transformers and take in Touch of Evil. Janet, Orson and Heston are far more action packed and electric than a bunch of damn robots (not that I dislike robots, especially when they transform). Much has been written about Touch of Evil, but, what the hell, it's Janet's birthday, and I want to discuss one of her greatest pictures.
Touch of Evil
"He was some kind of a man." So says Marlene Dietrich's raven-haired, cigar-smoking gypsy regarding Orson Welles' corpulent, corrupted, candy-bar-eating Hank Quinlan, a man who, like the director himself, had gone through a lot in life. A lot.
Which is perfect when looking at the movie in which the uber-goddess uttered those memorable words--Touch of Evil--the 1958 picture that placed the legendary director in another ridiculous battle he couldn't win. A battle lorded over by the less artistic, the less sensitive and those who didn't respect or acknowledge the man's genius. And Welles was indeed, some kind of a genius.
And nowhere is this more evident than in Touch of Evil--a tough, sleazy masterpiece (and perhaps, the last true film noir) that should be ranked equally with his universally acclaimed Citizen Kane. Although already firmly established in film history as a brilliant cult classic, Welles' beautifully tawdry film noir is a classic in its own right. However, in the picture's first incarnation, it had always been left wanting--wanting more Welles.
The original distributors thought differently. Considered by the industry a 43-year-old wash-up, the controversial director was given the less than plum opportunity of directing a low-budget, grade B crime picture for Universal. Accepting the dual roles of actor and director (according to Welles, he was only paid for the acting); Welles agreed to make the film on the condition that he would be given free reign to rewrite the script. Working from a treatment based on the pulp novel Badge of Evil, he rewrote it in a mere 3 1/2 weeks. As he recalled: "I locked myself up with four secretaries and wrote an entirely new story and script." The changes resulted in radical and inventive deviations from the source material.
Switching the original location from sun-drenched California to a seedy Mexican border town complete with bordellos, flophouses and other images of shabby, intoxicated decadence, Welles established an environment ripe for his cinematic artistry. Changing the ethnicity of the main characters to a Mexican man newly wed to a white American woman, he charged the picture with racial tensions that were simultaneously daring and immensely erotic.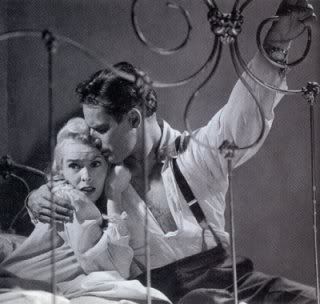 Touch of Evil casts Charlton Heston (some say hilariously against type--I happen to think he's terrific in this role as did Welles) as Ramon Miguel "Mike" Vargas, a Mexican narcotics cop who, along with his sexy new wife Suzie (Janet Leigh), falls into a murder case laden with corruption and sleaze. After a car containing American bigwig Rudy Linnekar and his mistress explodes right before his eyes, Vargas is hooked into a criminal investigation that will prove to be a fight between good and evil, the lines between which are already tremendously blurred.
Enter Welles' lecherous American police chief Hank Quinlan, a locally adored but feared celebrity whose not below associating with shadowy figures for personal gain and crude enjoyment. Ever since his own wife was murdered long ago, he's lived in a state of moral decay, only intensifying his hatred for Vargas and his hot-to-trot wife, whose lives are filled with future and honor and quite clearly, steamy, steamy sex. He also views Vargas as an in-the-way do gooder pissing on his territory (though the crime was, technically, committed on both sides of the border).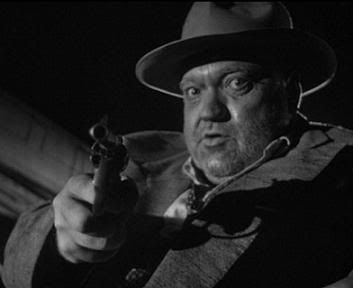 And though Vargas is supposed to be enjoying his honeymoon, the ambitious young man insists on tagging along with Quinlan's investigation, leaving his yearning, luscious wife to the predations of local thugs, drug dealers and a gang of butch lesbians (a fantastic, perverse, bordering on deviantly sexy moment). And that's just the half of it. A scene in which Leigh is cornered in her nightie is daringly subversive, a terrifying moment that oozes sleaze and skillfully weaves stark realism with gorgeous expressionism. And it's still terrifying. Leigh's toughness and vulnerability in this moment is remarkable, her eroticism simmering with nervousness.
But all that glorious subversion, quite clearly, frightened Universal who didn't want the whole of Welles' amazing film. So, like Vargas indirectly causing Suzie to fend for herself, Welles left Touch of Evil to the predations of the studio. Though he certainly couldn't have forgotten how the studio hacked his Magnificent Ambersons, Welles left the country as soon as the film was completed. When execs saw the picture in its entirety, they were shocked by its deviant images, complicated shots, dark themes and creative editing, all of which are now regarded as bravura filmmaking far ahead of its time. In response, they decided to make the picture's transitions smoother (which was not Welles' intent for such a rough movie) and the storyline more linear, and so, reedited and filmed new scenes without Welles. The result was a shorter movie that wasn't a bad cut necessarily, but not pure, deliciously dangerous Welles. The changes were, as Janet Leigh remembered, "just enough to take away the film's edge."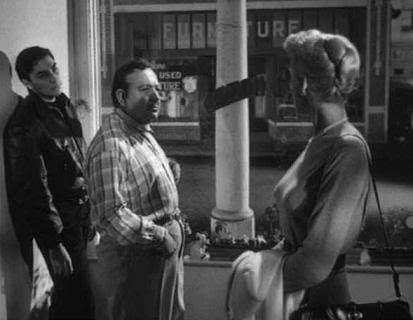 Welles was incensed. In a heartbreaking 58-page memo, he begged the studio to reconsider the changes. Containing countless specific improvements including the desire not to have credits and music over the now legendary tracking shot that opens the film, the impassioned memo was, for the most part, ignored. The movie released was 96 minutes of still cutting-edge celluloid, but it wasn't what Welles wanted. Touch of Evil met with mixed reviews, and it was the last studio film Welles ever made. He crafted interesting work thereafter for sure, but his treatment regarding Touch of Evil is a Hollywood tragedy.
That may sound like a strong statement, but many have strongly agreed and through time, two other reedits attempting to address Welles' initial vision were released--but they were not truly "director's cuts." Thankfully, the version we can see now by producer Rick Schmidlin and editor Walter Murch, used Welles' memo like a bible. Relying on 1,000 pages of scripts, numerous reports, notes and footage from the original negative and separate soundtracks, Schmidlin and Murch made the nearly 50 changes that Welles desired for his final cut.
And the result is near magic (though some may disagree). Welles' landmark use of cacophonous, overlapping sound (particularly in the picture's brilliant opening shot), his uninterrupted takes (especially in the apartment interrogation scene), his eerie, out-of-balance lighting, expressionistic black and white cinematography, shadows and angles are all here in breathtaking display. Nearly every character and scene acquire a tone sleazier and more ominous than in previous versions, and the film's portent of doom is deeply felt. And, Welles' Quinlan is surprisingly likable--in many ways more than Heston's virtuous Mexican. Heightened in his scenes with the sublime Marlene Dietrich, there's something sympathetic about Quinlan's mumbling menace. We care about him.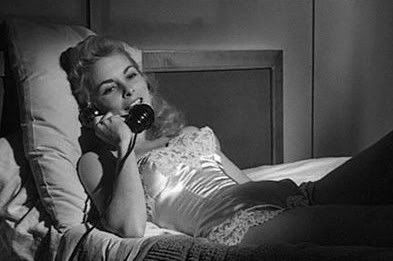 And by extension (and for anyone who loves cinema) we also care about Welles, making Touch of Evil especially meaningful. We're happy that Touch of Evil is the masterwork he wished for, giving one of cinema's most influential and important auteurs, finally (finally) his "final cut." I'm happy Janet Leigh lived long enough to see it.