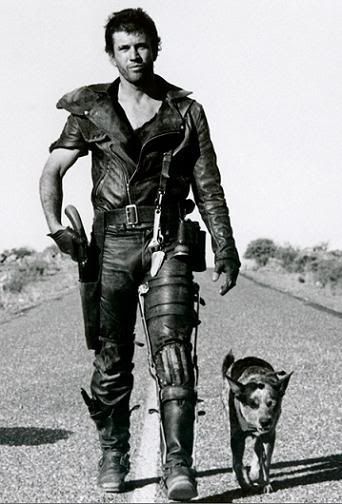 Are three films better than one? Given the threesome craze raging through this summer's cinema (Spider-Man, Shrek, Pirates of the Caribbean, the Oceans films) I'm going to easily answer that question with a declarative N-O.
Though movie fans get excited over their final Matrix or or X-Men or Lord of the Rings, trilogies, planned or unplanned, frequently leave the viewer disappointed, stuck in a maddening state of comparison. And I can only think of studio execs drooling over the prospect of not only cashing in on continued big screen success but the marketing coup of endless DVDs—single editions, special editions, box sets, extra special box sets and more. But all cynicism aside, there's still some worthy, even, masterful trilogies that have graced our screens. Here are ten of my favorites.
10. The Dead Trilogy
Night of the Living Dead, Dawn of the Dead, Day of the Dead
Director/horror master George Romero followed up his 1968 black-and-white masterpiece about flesh-eating zombies with a pair of terrific pictures that were both inventive and surprising. Rather than continue with the same old, same old (after all, his original movie had been copied countless times), he made a brilliant parody. 1979's Dawn of the Dead is a sardonic take on consumerism. The recently dead stalk a massive shopping mall as our four heroes barricade themselves in the various stores. The third film, Day of the Dead (1985), is set in an underground missile silo, where the last humans on Earth study the undead. The film's perfect setting is a place where, even pre-election, American confusion reigns: Florida. A female scientist fights the zombies with gusto, gore and more talk than we're used to in a Romero film. Not as good as the first two, Day of the Dead is nevertheless entertaining and absorbing. You could say Romero made his own Godfather here, though many would argue Day of the Dead is better than The Godfather Part III. Maybe Romero and Francis Ford Coppola should join forces and make a Mafia zombie movie? Considering how many zombie movies are made these days, that doesn't even sound so far-fetched.
9. Star Wars Trilogy
Star Wars, The Empire Strikes Back, Return of the Jedi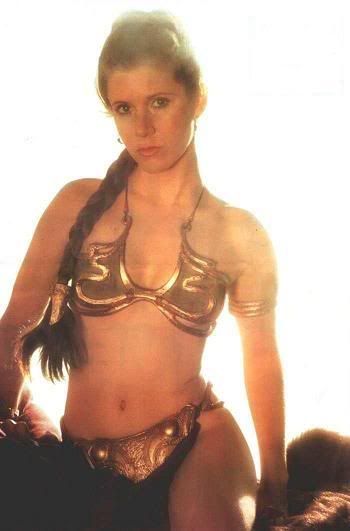 I'm going to forget the whole Phantom Menace, Attack of the Clones, Revenge of the Sith thing ever happened. If you're a true Star Wars fan, or simply someone who understands what a good movie is, then George Lucas' first three Star Wars are still the best. And it's so much fun to watch where the series goes in its first incarnation. Star Wars is like a charming B-movie space western, chock full of bad acting (except for Harrison Ford and Alec Guinness), wonderfully old-school special effects and those fantastic cinnamon buns on Princess Leia. Also, Darth Vader was actually scary, a movie bad guy who could really make you tremble. The Empire Strikes Back is the best of the three; it's Yoda-filled and darker, and Luke (Mark Hamill all grown up and bereft of baby face after his real-life car accident) learns that Darth is his father. No Star Wars since has out-done the light-saber fight sequence at the film's end. The third? Well, Leia certainly looks hotter (and she's chained to Jabba the Hut which is all kinds of mad-hot in that Carrie Fisher coke-head way) and we're all relieved that Han's removed from space cement, but what of those alien Teddy Bears, er, Ewoks? As they fly around in their space speedsters, any cynical kid was hoping they'd hit the trees (I might be biased because I was forced to sing the Ewok song in choir every damn day for warm-up. And yes, I still know the entire tune, something that comes out perfectly when under the influence). Still, it was a fun ride, with terrific special effects and the joyous annihilation of the Death Star. And hey, thanks to Lucas' newest installments, it's kind of a masterpiece.
8. Three Colors Trilogy
Red, White, Blue
Filmmaker/artist Krzysztof Kieslowski gives a shout out to France with his Three Colors Trilogy, named for the colors on the French flag and what they represent: liberty, equality and fraternity. The somber Blue (1993) chronicles the heartbreak of a woman (Juliette Binoche) who loses her husband and son in an auto accident. With liberty, she attempts to put her life back together and start again. White (1994) turns to comedy, as a bewildered Polish husband (Zbigniew Zamachowski) seeks wacky revenge on his beautiful ex-wife (Julie Delpy) who's taken him to the cleaners. The husband works his way to wealth and then, ironically, leaves his money to his ex-wife. This is equality, Polish style. Red (1994), the best film of the three, finds a Swiss model (Irène Jacob) becoming friends with a crusty, eavesdropping retired judge (Jean-Louis Trintignant). The two bring out surprising depth in one another, and the odd pairing enriches their lives. To tie things up, Kieslowski brought Binoche and Delpy back for visits and employed gorgeous uses of the color red. Don't let the film's artistry scare you away; the trilogy is an evocative, stunningly beautiful and multi-faceted look at European life. It is superb, and (seriously), not pretentious and eminently watchable.
7. Evil Dead Trilogy
Evil Dead, Evil Dead 2: Dead by Dawn, Army of Darkness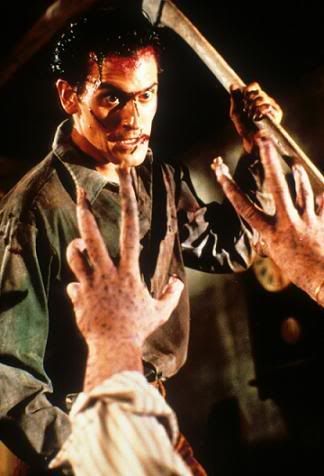 God bless director Sam Raimi. Not only did he create Evil Dead, a horror work that managed to be both scary and funny, but he brought the world Bruce Campbell, a cult hero you can't possibly dislike (see the great Bubba Ho-Tep for further evidence). Using innovative stop-motion action effects, Raimi injected the horror genre with inventive pluck. The influential, low budget Evil Dead was flat-out scary though endlessly amusing and weirdly charming, assault by trees and all. He went full-throttle funny with the Three Stooges-inspired Evil Dead 2: Dead by Dawn. After a quick re-cap of the first film, the second quickly dives back into Campbell fighting supernatural demons, and in one hilarious sequence, his own severed hand. Raimi moves into even nuttier territory by the trilogy's third act, Army of Darkness (1992). Campbell returns again as the sarcastic Ash, this time in a medieval fantasy with a chainsaw for an arm, a Remington shotgun and an Oldsmobile '88. Damn. I want one.
6. Mad Max Trilogy
Mad Max, The Road Warrior, Mad Max: Beyond Thunderdome
Yeah, yeah, there's the whole Thunderdome factor, but dammit, I like the final Mad Max. And Tina Turner needs to appear in more movies. Mad Max (1980), the great George Miller's taut, low-budget car/motorcycle/futuristic film depicts a pissed-off cop (Mel Gibson in his star-making role) seeking vengeance for the murder of his wife and kid at the hands of outlaw bikers. The restless camera and stunt work is above and beyond the film's B-movie potential. Serious invention was at work. 1982's The Road Warrior (which some think is superior to Max) followed. The second film in the trilogy finds our hero living in an Australia annihilated by nuclear war. Max aids oil-drilling survivors who've been pursued by murderous outback gangs (how scary is that?). The film's amped-up intensity made this one of the most talked-about films of the '80s. And Thunderdome (1985), well, you've gotta love that Tina Turner rules an evil town, plus Max becomes a gladiator and hangs with orphans. And contrary to Turner's song, we did "need another hero." Wow, with talks of another Mad Max and without Mel Gibson (which is an absolute shame—I don't care how you feel about him) this might not be a trilogy anymore.
5. The Lord of the Rings
The Fellowship of the Ring, The Two Towers, The Return of the King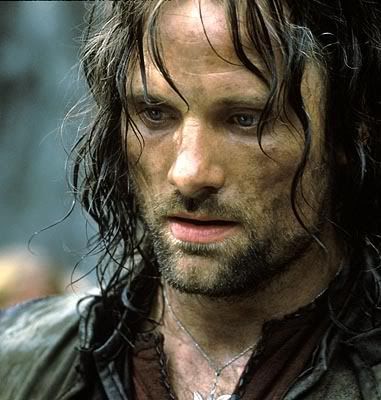 I'm always hearing contrary stances on The Lord of the Rings trilogy and I'm frankly, sick of them. Director Peter Jackson's Middle Earth pictures remains one of the greatest of threesomes—a massive achievement of technological brilliance and emotion, something you rarely find in movies with such a reliance on effects, design and creatures. That the odds -- and thousands of nit-picky J.R.R. Tolkien fans waiting to string him up if he screwed it up -- were against him from the start makes the scale of this accomplishment even more mind-boggling. Unlike most trilogies, Jackson' s venture into Middle Earth is essentially one big film cut into three parts (he filmed them simultaneously), and yet each part also can stand completely alone as its own mesmerizing, fulfilling movie. To see each of these films is to experience a filmmaker at the absolute peak of his creative powers. Everything that we love about the movies, from heart pounding drama and action and tension to meticulous, loving character development to breathtaking visuals, can be found here. It truly is a reminder of why we go to movies.
4. Apu Trilogy
Pather Panchali, Aparajito and The World of Apu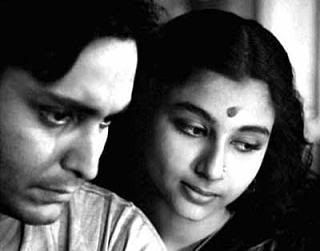 Satyajit Ray isn't the first name that comes to mind when most people think trilogy (though he should), but the Indian filmmaker made one of the greatest, most beautifully filmed entries in the genre with his Apu Trilogy. The first film, Pather Panchali (1955), concerned a boy named Apu, who grows up in a Bengali village in the early part of the century. His encounters with his impoverished family offer a gorgeously rendered child's eye view of the world without condescension. 1956's less joyous Aparajito follows Apu as he deals with his father's death, then, in a memorably tragic scene, his mother's. Apu leaves for the city, going against the wish that he follow in his father's shadow of priesthood. The next film, The World of Apu (1959), finds him living in Calcutta, alone and in shabby conditions. Apu wants to be a writer, but instead marries a would-be spinster, until she dies while bearing their son. Grief stricken, Apu hides away, never seeing his son until the film's sob-inducing finale. Interestingly, Ray never intended to make a trilogy, but feeling pressured by the first film's success, crafted this masterful final film, something all pressured trilogy makers should turn to.
3. Dead or Alive Trilogy
Dead or Alive, Dead or Alive 2: The Birds, Dead or Alive: Final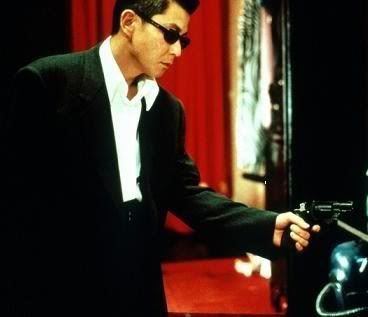 If you thought Mad Max was violent, you obviously haven't seen Japanese cult director Takashi Miike's Dead or Alive trilogy (one of many who inspired some of Quentin Tarantino's Kill Bill and Eli Roth's Hostel series. Miike makes a cameo in Roth's first Hostel). Not merely nihilistic, but an absurdist, Miike swirls glamorous madness, muddled morals, questionable allegiance and satire into a potent pulp. And you can't take your eyes off his images (I swear, I've watched the delirious opening sequence to the first Dead or Alive about 25 times). The first film, Dead or Alive (1999), involves a war between the Yakuza and the Chinese Triad in Tokyo and the world-weary detective who pursues them. The second, Dead or Alive 2: The Birds (2002), changes gears as an aspiring magician aspires to kill a Yakuza crime lord but loses the chance when a rival hitman kills the guy first. After the two hitmen discover they were actually childhood friends, the two join forces to ice people for a purpose. Dead or Alive: Final finds the friends squaring off after one kidnaps the other's son. Cultists disagree on which film is best, but they all maintain Miike's anarchic style has the audacity to cram together elements of realism, fantasy, sex and repulsion. Miike's ferocious and funny trilogy is a bloody work of art. And it's supremely, well, bad fucking ass.
2. The Godfather Trilogy
The Godfather, The Godfather Part II, The Godfather Part III
How can this be number two, you say? Because it's just not perfect enough. Francis Ford Coppola, who, with The Godfather (1972) and The Godfather Part II, (1974) made two of the greatest films ever made, had his trilogy marred by its finale, a film that's not as bad as originally skewered, but certainly nowhere near the brilliance of its predecessors. Adapted from Mario Puzo's novel about a Mafia family (though the word "mafia" is never uttered in the first film, thanks suds) led by cotton-mouthed patriarch Vito Corleone (Marlon Brando), the first film sees young, intelligent and levelheaded Michael (Al Pacino) taking control but becoming colder in the process. The second film tells two stories concurrently: a flashback of Vito's rise in America as a young Sicilian immigrant (Robert De Niro) and Michael's spiritual fall as head of the family. The second film contains the famous and tragic killing of Fredo ("You broke my heart") that haunts Michael into the third film. In The Godfather Part III (1990), an aged Michael is so consumed by guilt that he seeks redemption by investing in the Catholic Church. He quickly learns that the Church is also corrupt. Though critics mocked Coppola's choice of casting his daughter Sofia as Michael's movie daughter, she was, as looks go, more fitting than his first choice, Winona Ryder. Nevertheless, I'm glad Sofia skipped acting and went into directing, where currently she's getting more attention than her father. Like the epic scale of the Godfather films, there's something Shakespearean about that.
1. The Dollars Trilogy (The Man With No Name)
A Fistful of Dollars, For a Few Dollars More, The Good, the Bad and the Ugly
OK, I'm going to be plain and simple here -- there is nothing wrong with this essentially unplanned "Man With No Name" trilogy. Italian director Sergio Leone's trio of spaghetti Westerns is operatic, elegiac, often silent, brilliantly scored (by the master, Ennio Morricone) and gorgeously filmed. It not only made an international star out of Clint Eastwood, but was a stunning entry into the Western genre that hasn't been replicated since. With a plot taken from Akira Kurosawa's samurai tale Yojimbo, the series begins with A Fistful of Dollars (1964) as "The Man with No Name" (Eastwood) rides into a Mexican border town where two outlaw gangs battle for control. Shifting allegiances from one gang to the other, Eastwood eventually double crosses both sides in one of the smartest deceptions in film. Here we see what marks Leone's films: camera work. Wide screen, wide-angle lenses, bizarre angles and close-ups all belie an anarchy and openness not seen in cinema. His follow-up, For a Few Dollars More, (1965) teamed Eastwood with Lee Van Cleef as a pair of bounty hunters looking to kill the psychopathic Indio (Gian Maria Volonte). Revenge oriented, the film features the memorable touch of having a Morricone tune playing on Cleef's watch. The final (though a prequel to the previous two), and perhaps most masterful, is The Good, the Bad and the Ugly (1966), in which Eastwood, Eli Wallach and Van Cleef pursue a cache of stolen gold. Double and triple crosses ensue, along with a heady take on the pointlessness of war (the Civil War booms around the men). Amazing widescreen shots of Eastwood's squinting eyes, not to mention Cleef's unrelenting (and downright sexy, something I've talked about many, many disturbing times) badness, appear throughout the film. This trilogy ushered in a new kind of Western: super violent, incredibly cynical, almost hyper-stylized (but with substance) and mythically potent. Perfecto.