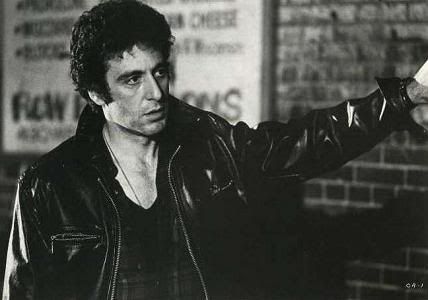 William Friedkin is back and I'm here to ask the 70s auteur to please stay. Just keep going. Damn the critics, to hell with the studios, make an even smaller picture if you have to and keep on going. Though his image has been tarnished through the decades with critically mixed pictures like Jade, Blue Chips, Rules of Engagement and The Hunted (pictures that remain interesting, especially The Hunted), 20-odd years ago he was one of Hollywood's most courted directors. Creating two bona-fide American classics, The French Connection and The Exorcist and some misunderstood masterpieces, Cruising and Sorcerer, Friedkin's work can be fearlessly visceral and cinematically ingenious (his use of sound is often brilliant, and his collaboration with wizard Jack Nitzsche is especially virtuoso). When Friedkin is on his game, he's under-your-skin profound.
Provocative ideas have always been central to Friedkin's vision, and he's jumped genres to find them. Among other films (including Sonny and Cher's Good Times), he's adapted stage plays, such as Harold Pinter's The Birthday Party (1968), about a lodger harassed by two strangers, and The Boys in the Band (1970), a biting, soul-searching night in the life of gay friends and the police thriller To Live and Die in L.A. (1985), which exposed both sides of the law's moral ambiguity even further than The French Connection.
His newest study of insanity and horror, Bug (starring Ashley Judd) finds Friedkin venturing into a smaller though no less explosive milieu, adapting Trecy Letts off-Broadway play for a claustrophobic, paranoid freak out thriller that's in my mind, one of the best films of the year. And certainly, one of Friedkin's greatest works in a long while. With this, I'm looking at the best of Friedkin's work— work that helped shape a period of darker, more challenging and often more shocking movies. Here are five of Friedkin's greatest—superior studies of flawed humanity, tension, fear and, of course, some wicked cool car chase sequences.
The French Connection (1971)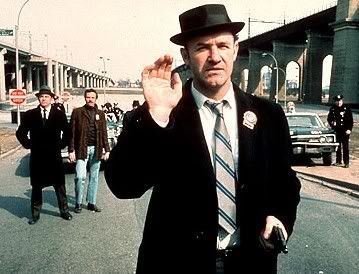 A tour de force of stylistic, kinetic editing, sweeping hand-held camerawork, savage realism and natural, anti-heroic leads, The French Connection won that rare honor in Hollywood, Academy Awards for best picture and best director and for an "action" picture. Within this complex police story exists wonderful hard boiled acting, ingenious cinematography, one of the best dirty cops in filmdom (Popeye Doyle, played by Gene Hackman at his porkpie hat hottest) and one of the grittiest, most exhilarating chase scenes ever filmed. To top it all off, a beautifully subtle yet tough Roy Scheider is Hackman's partner, and Roy Scheider is great in just about everything.
The Exorcist (1973)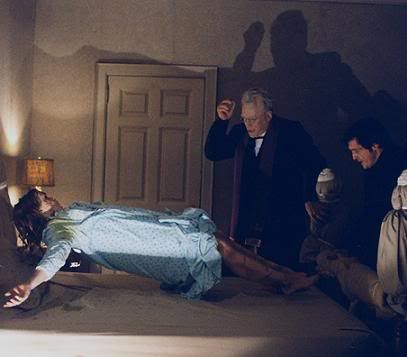 When I interviewed William Friedkin while he was making The Hunted several years ago, I told him just how much The Exorcist traumatized me as a youth. Explaining the details that eventually drove me to a doctor, the director was amused, and yet, not surprisingly, delighted by my immense terror. He also told me: "I believe in good and evil. I believe that the forces of good and evil are at war within all of us every day, all the time. It's a daily struggle in every human being. It is in me. And I probably would be a seriously screwed up person if I weren't making movies about seriously screwed up people." Well good, because Regan is one seriously screwed up character. But then, it's not just Linda Blair's especially female demonic, pea soup spewing possession that's scary, it's the subtle buildup, the claustrophobia, the terrifying sounds, that damn Mercedes McCambridge voice and that horrifying face (you know the one) that Jason Miller sees in his dream that gets you. There's also the incredibly human turns by devoted mother of the millennium (Ellen Burstyn) and that hard working priest (Miller), making the picture both terrifying and poignant. Hitting on multiple layers, The Exorcist isn't just a horror film, it's a cinematic milestone.

To Live and Die in L.A. (1985)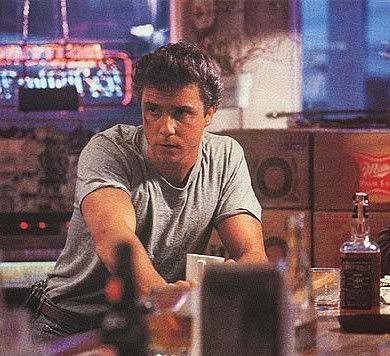 A slick, bright, decidedly 80s L.A. crime story that's so intent on movement and style, you might think story would take the back seat. It doesn't. In spite of what some say, To Live and Die in L.A. remains one of Friedkin's stellar achievements. A gritty actioner scored to the tunes of Wang Chung, the picture finds William Petersen's U.S. Secret Service agent pursuing a sexually ambiguous counterfeiter (played by Willem Dafoe) using extremely questionable ethics. Sometimes you've just got to find a way to waste the bad guy--from above the law. But it's of course, not that simple, and the picture crackles with tough- as-nails dialogue, fascinating counterfeiting sequences and one badass chase scene.
Sorcerer (1977)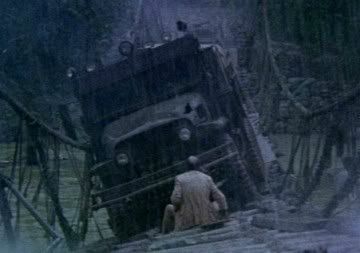 Why? Why don't enough people (other than cinefiles) understand how inventive, tense and soulful this picture is? Suffering from the pre-judgments of a re-make (Henri-Georges Clouzot's classic Wages of Fear), bad buzz surrounding the budget and making of the film, and a title that confused people, the film never got the due it deserved. A shame. The story of four men (an especially powerful Roy Scheider, Bruno Cremer, Amidou and Francisco Rabal) attempt to drive a shipment of volatile nitroglycerin over 200 miles of treacherous terrain that includes, in a memorable moment, an impossibly rickety bridge. The journey becomes highly existential, with desperate, at-their-last-end men on a suicide mission and a final 50 minutes that's both riveting and emotionally agonizing.
Cruising (1980)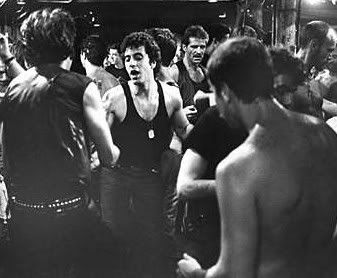 Oh how misunderstood and unjustly hated Cruising was. Friedkin went through hell for this picture and the stigma remains, just watch the documentary The Celluloid Closet during which the film is discussed as a blight on homosexual progress. And worse, the cause of gay bashing. But I'm with Camille Paglia on this one. Paglia has called the film a work of "underground decadence that wasn't that different from The Story of O or other European high porn of the 1960s." It's better than high porn, but it certainly plays sexually shocking, even today. Others have come around, and the movie is enjoying a re-release at this year's Cannes Film Festival (and DVD release soon). Goddamn finally. Again, accused of stereotyping and insensitivity to gays, this taut, finely scored and bravely acted (by Al Pacino) picture finds straight police detective Pacino going undercover in the subterranean gay subculture of leather bars and S&M to capture a (yes) gay serial killer. As Pacino struggles with his identity and sexuality, the picture goes far beyond ideas concerning sexual preferences and practices (we learn a few things about the handkerchief system, for instance) and truly explores all those gnarled secrets simmering under certain men. And the sounds of rubbing leather and footsteps have never been so gorgeously ominous. I can't even imagine this picture, with this big of a star being made today.