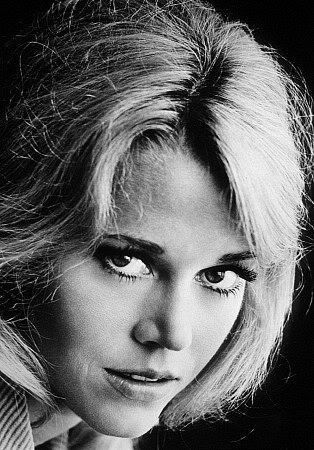 When Jane Fonda believes in something, you believe she believes. It's true in her own eventual real life, which has often led to controversy (and "feel the burn" aerobic routines), and it's certainly true of her film performances, which make her one of the most remarkable actresses in movie history. Blessed with gorgeous but intelligent blue-blood looks inherited from her famous father, Henry, a frank speaking, well-educated voice and rare mixture of indomitable strength and sometimes, melting vulnerability, Fonda is the dramatic blueprint for the ideal woman -- smart, sexy and curious.
But Ms. Fonda would value her smarts above her sex appeal and, like many of her famous film roles, is a woman constantly searching (read her superb autobiography My Life So Far and you'll find an honest, strong but often insecure woman). Fonda had been away from movies for 15 years before making the rather unfortunate Monster-in-Law (she was as great as she could possibly be, the movie was not) and now is back at it with Georgia Rule, a film featuring Lindsay Lohan and one that makes me scream inside: Jane! Pick better roles!
But I'm happy to see her writ large--in any way possible. So in celebration of Jane's second return to screen, I've gathered 10 of my favorite performances -- no easy feat because Ms. Fonda is always fine.
Here's five from the list:
Barbarella (1968)
This is supposedly the movie that Fonda had to live down, a movie that while in her more feminist days she found embarrassing, but one she now sees as something quite funny and appealing. A silly, sexy space comedy directed by her then husband Roger Vadim, Barbarella was made during her Gallic phase and directly before she became more serious, more political and a deeper actress. But Barbarella (cult credibility notwithstanding) is actually an interesting Fonda role in that she breathes a kind of saucy intelligence into this comic strip, even while, yes, stripping and being so sexually voracious that she famously breaks the Orgasma-tron. Fonda's sexy as all get out and cheeky (she knew this was good fun), and the film contains some sparkling dialogue written by Terry Southern. And Jane even stands up for herself when she says: "My name isn't Pretty-Pretty. It's Barbarella." There have been talks of a remake with Sienna Miller but, sorry, no one tops Jane. No one.
Coming Home (1978)
Hal Ashby's Coming Home is famous for its realistic portrayal of a disabled Vietnam veteran (played by a splendid Jon Voight), but it's Jane Fonda's role as a changed woman on which the film centers itself. As Sally Hyde, the ex cheerleader, all-American, unquestioning wife to a Marine, Fonda begins her character's journey as something of an unexceptional person. But when her husband (Bruce Dern) leaves for the war, she's on her own and, for the first time, begins thinking for herself. One of the most important changes occurs when she volunteers at a veteran's hospital and meets an angry and frustrated man whom she recognizes as the captain of her high school's football team. Now a paraplegic from the war, his thoughts about Vietnam wildly differ from her husband's and influence Sally's awakening. What's remarkable about Fonda (and Ashby's film) is that a romance begins between these two but also a friendship and an understanding. Neither the filmmaker nor Fonda judges this character for being unfaithful, but they don't view her as a saint either. She's human. A beautiful, immensely touching performance.
Cat Ballou (1965)
Many of you will be surprised to see Fonda's Cat Ballou near the top of her "best of" list. You might think it's a fun romp for sure, and she's hot as hell, but didn't Lee Marvin win the Oscar for this picture? And isn't this Barbarella -- era Jane? As in, not so serious Jane? Well, sure it is, but that doesn't downgrade one of her most charming performances in one of her most lovable movies. Like her father, who easily straddled drama with screwball and whose weight even heightened his more comical roles, Jane is a funny vixen with wit — a once mild-mannered schoolmarm who turns feisty, vengeful Cat Ballou after her father is killed. Fonda showed that this kitty not only had claws but commanded the big screen. Working the Western spoof and wearing her cowboy hat very, very well (did we mention how hot she is in this movie?), Fonda mixes beautifully with co-stars Michael Callan, Dwayne Hickman, Tom Nardini and the ever-wonderful Marvin. It's not easy making a pouting, hot-to-trot near cartoon so lifelike, but Fonda's poignant Cat ("You won't make me cry! You'll never make me cry!") does. Tuned to the songs of Stubby Kaye and Nat King Cole, Jane makes her Cat unforgettable.

They Shoot Horses, Don't They? (1969)
"Maybe it's just the whole world is like central casting. They got it all rigged before you ever show up." So says Jane Fonda's Gloria in one of the grimmest pictures ever made (really it is) -- particularly about showbiz. As the supremely beaten down heroine in Sydney Pollack's powerful adaptation of Horace McCoy's masterful 1935 novel -- she's a lloser who knows she's a loser. Fonda's bruised dance marathon participant Gloria is achingly tragic not only because her life is so depressing but because she's, presumably, one smart cookie. An analogy of Depression-era hopes for money, food and fame, the movie and Fonda raggedly dance to Gig Young's decidedly unhappy call of "Yowza, Yowza, Yowza" while showcasing their desperation and despair. You can't help but ask, why must it be this way? And why is Gloria engaged in this disturbed dance? Fonda never really answers that question making Gloria a real live, frustrating person (instead of a charity case) giving her character a raw dignity within such relentless morbidity.
Klute (1971)
This is the ultimate Jane Fonda performance: damaged, lovely, slutty, vulnerable, tough, intelligent, clinging, free spirited, sad -- Jane gets it all down perfect. Playing Bree Daniels, an independent New York City call girl who finds herself working with a cop named John Klute (Donald Sutherland), Fonda gives a naturalistic, heady performance that's both edgy and surprisingly romantic (a sequence showing Jane walk across a dance floor and towards her ex pimp played by Roy Scheider is pure brilliance). Since Bree had received obscene phone calls and letters from the missing man Klute is investigating, she is a source of interest for the soft-hearted cop who eventually falls in love with her. But the film (directed by Alan J. Pakula) and Fonda do not present their relationship in a typical scenario and instead wrap its thriller elements directly into the relationship -- there's something terrifying and dangerous about falling in love, especially when you've hardened yourself to love no one. This struggle is brilliantly played out by Fonda, who gives such a moving performance that no matter what Bree does, you can't help but forgive her. And really, in the end, root for her.
Read the entire list from my MSN Fonda Fest here.
And read the anti-Fonda comments here. Yes, the "Hanoi Jane" hatred persists.