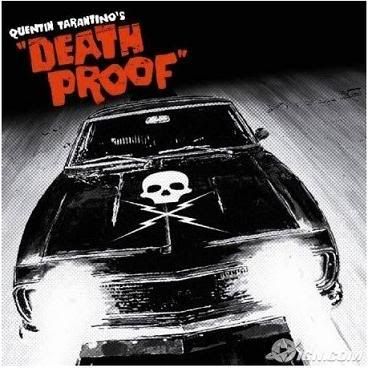 Is there a more polarizing filmmaker working today than Quentin Tarantino? A pop-culture savant whose veins pulse with melted-down celluloid, this superstar of the Sundance generation has undeniably left his mark on the cinematic landscape. (What other director from the '90s has inspired his or her own adjective?) But is he the most original and innovative narrative storyteller to come along in the last few decades, or just a self-conscious hipster who makes wax museums with pulses? It depends on whom you ask, which is why, on the eve of QT's latest release, Grindhouse, my pal Dave Fear (from Time Out New York) and I duke it out (at MSN Movies) over the merits of Tarantino's contribution to the seventh art. Let the slinging begin.
Kim Morgan: OK, let's start here: Quentin Tarantino knows what I want to see. I want to see girls in short shorts dancing to T. Rex in a run-down Texas bar; I want to see a weird, rough-looking Kurt Russell quoting Robert Frost while asking for a lap dance; and, I want to see a brave woman belted to the hood of a white 1970 Dodge Challenger (the Vanishing Point car) while her friend clocks somewhere around 80 mph. Wasn't this part of the reason cinema was invented? So I could see this stuff? I think so. But I'm one of those Tarantino fans who likes the director more when he makes movies that characters from his previous films (Reservoir Dogs and Pulp Fiction) would discuss between their "royale with cheese." With Death Proof (his movie from the Grindhouse double bill with Robert Rodriguez), all of the above actions occur, aided and abetted by a lean and mean simplicity that's gorgeously shot, spectacularly stunted and oddly lovable. Tarantino is having loads of fun, but he's also respecting all the B-movie classics (and nonclassics) that he clearly cherishes (bless him for directing viewers to the original, superior Gone in 60 Seconds). I know many critics complain he's become increasingly superficial since Kill Bill, and that his last mature work was Jackie Brown, but I think he's actually becoming more advanced -- boldly experimental and oddly personal. These are his obsessions and his fantasies, after all. I'm just happy he's opened up the double doors to his den to let me poke around. Now if I could only borrow a few things ...
Dave Fear: So the guy with the cinematographic memory, the encyclopedic knowledge of exploitation flicks and the motormouth patter knows how to get a nice genre-hound gal like you hot and bothered. That's great, Kim, but the question remains: Does Death Proof, his half of this $53-million homage, do anything but wallow in nostalgia for yesteryear's cheap thrills? It's not like I don't have a soft spot for splatter flicks and anything involving muscle cars going vroom as well. The problem is that once you're done playing spot-the-reference (Ohmygod, the chick that kinda looks like Roberta Collins is driving Kowalski's Dodge Challenger and being rammed by Snake Plissken!), you realize there isn't anything there besides "his obsessions" (e.g., a foot fetish that would rival Luis Buñuel's and others' movies). Jackie Brown may have been an adaptation of an Elmore Leonard novel on one level and a sub-blaxploitation crime film on another, but Tarantino also managed to sneak in something heartfelt into the mix: what happens to people when they get older, get burned by life and have to make up for bad decisions and lost time. For him to go from something as emotionally naked as "Brown" to the jukebox cinema of Kill Bill (Wow, you've seen a lot of cool Asian movies. Um, congratulations?) felt like a serious step backward. Grindhouse is just another series of footnotes masquerading as a narrative. Cinema was invented to show groovy chicks dancing around in their skivvies and hot chrome-on-chrome action; it's also about telling stories, shedding some light on the human condition and showing us something besides a director's favorite scenes being rehashed. If you could leave him a little note while you're rooting around his den (be careful not to knock over those mile-high stacks of giallo videotapes), a lot of us would be in your debt.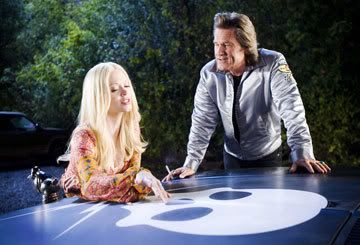 Kim Morgan: Hot and bothered? Who said this was a sexual thing? How insulting. I mean, a ramming Dodge Challenger? Snake Plissken? What kind of a girl do you think ... OK, OK, maybe it's a little sexual. Anyway, my point is, what's wrong with a guy reveling in his encyclopedia knowledge of exploitation if he's actually being inventive and honest along the way? And both Kill Bill and Death Proof are incredibly inventive and, as you said of Jackie Brown (which I like -- especially Robert Forster's performance), exceptionally naked. He's not just cataloging favorite scenes from Asian cinema, spaghetti Westerns, Brian De Palma, giallo, exploitation and redneck road movies; he's actually building on them, mixing the aesthetic and thematic elements into a feverish work of grand geek opera. And he knows we know that. He's not, like some other "inspired" filmmakers, simply copying Terrence Malick or Martin Scorsese or Robert Altman; he's tweaking and amplifying what he truly knows of life -- movies -- and Tarantino is a fan of cinema from the Grindhouse to the Art House. In that sense, he's a lot like Godard. And, really, a lot like Woody Allen, who also riffs on his influences (Stardust Memories? Fellini, anyone?) and continually chats about movies and music throughout his films. Maybe April March's "Chick Habit" (used at the end of Death Proof) isn't as classy as George Gershwin's "Rhapsody in Blue" (used in Allen's Manhattan) but ... oh what the hell, the brilliant Serge Gainsbourg wrote it, so maybe it is. I truly believe Tarantino is (ahem) "shedding light on the human condition" via Kill Bill and Death Proof in that the human condition is not only comprised of what is real but what we fantasize about. When I watched Uma break through that grave in Kill Bill, I was significantly moved. And when Traci Thoms turned her Challenger around to pursue a murderous Kurt Russell, I was inspired. Why is that response, even in the most fantastical of scenes, any less meaningful than watching a movie where someone does something mature and responsible? And I do own a 1971 Ford Torino, so if some psycho tried to ram me off the road, I might do the same damn thing.
Read the rest of the ass kicking with Dave's response here and my defense here. It gets uglier. But Dave and I are determined to go on that road trip...