"David...will you please stop talking. Please David. Please be quiet David..."
These are the urgings of beautiful, disturbed Julia, one inmate or rather, tenant in Peter Robinson's 1972 documentary Asylum. A superlative example of the late '60s, 1970's cinema verite, direct cinema approach to documentary filmmaking, Robinson's film shares much in common with The Maysles Brother's Grey Gardens, Frederick Wiseman's High School and Errol Morris' Vernon, Florida. Without standard voice-over narration and nary an introductory statement (there is short scroll at picture start) the filmmaker shunts us into this world -- one that's frequently funny, terribly sad and continually fascinating. Once you settle into the place, you don't want the movie to end.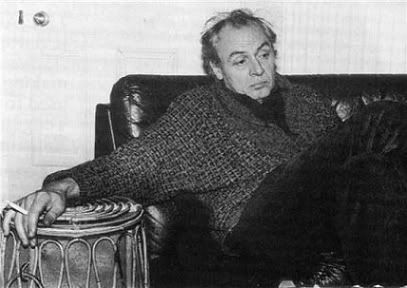 The picture begins with R.D. Laing, the controversial Scottish psychiatrist who, in the '60s started the anti-psychiatry movement, an idea based on the theory that insanity was less disease and more social construction. Instead of placing the mentally ill (largely schizophrenics) in white-walled, overly-medicated hospitals, Laing's "patients" lived communally in "safe houses" where they had free reign to subsist as they please. Laing believed that autonomy and understanding were necessary to aid mental health and that self reliance would make a person stronger and a successful part of the community. To Laing, there's no reason these people must be outcasts.
Robinson's study consisted of a seven week stay in 1971 at the Archway Community safe house in London, a row house on a residential East End street that harbors a dog a cat a bird and a bunch of schizophrenics. But of course, the patients (some looking like modern day hipsters) are more than their disease as the film so starkly and often, eloquently reveals. We see them discuss feelings of terror in a very rational manner or ramble on conspiracy-theory-like about computers and various notions that range from gibberish to somewhat profound declarations. We see patients comfort each other with words like "don't listen to them, they're only voices" to rubbing heads together in physical bonds of empathy. We also see them ignore one another, cry out and fight -- and by film end, fight a lot particularly with one inmate, David, who becomes such a nuisance to the others that they engage in serious discussion to kick him out.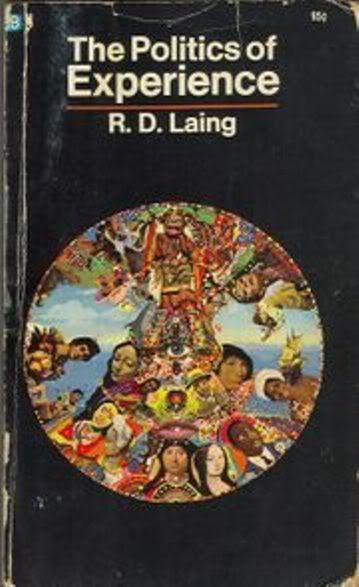 David -- a handsome, startlingly blue-eyed man in his 40's or early 50's, talks with an almost Richard Burton lilt -- but blathers incessantly and demands attention wearing dramatic scarves and, in one scene, a string of woman's beads. He's as mad as a hatter, but you also get the sense that he knows partially, some of the trouble he's starting and is remaining obstinate to change (which isn't so crazy when you think of people in the "sane" world). Nevertheless, he hits people, screams, scares Julia -- an angel faced girl who bears an uncanny resemblance to Gwyneth Paltrow (only lovelier) and continually utters "People in glass houses should not throw stones!"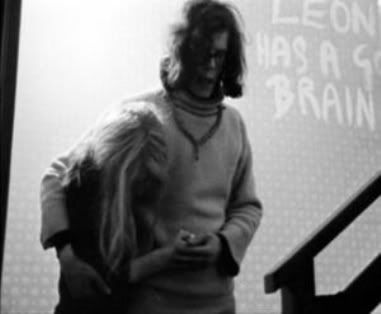 As we see in drama worthy of Shakespeare's crazy/lovely Ophelia, mental illness is certainly not reserved for the ugly. Julia (as well as a few other women in the house) looks more like a Roman Polanski heroine, crawling about a la Catherine Deneuve in Repulsion, a blonde beauty quaking with fear but giving in to the sporadic joke. As she rocks back and forth with internal horror and eventually reverts to an infantile state, we later learn that she believes she had let off the atom bomb and "made the air bad." Her family takes her out of the house for a spell (they are distrustful of the experiment) but return the beauty when others beckon her back. She sits in bed and tells the filmmakers of the stay, showing them a hair tie, and how her family wanted her to look pretty and presentable. You can only imagine what Julia's parents think when they behold their beautiful daughter lost in a maze of madness.
But I couldn't help but think that had Julia discovered some Swinging London or New York scene or kept the company of an Edie Sedgwick, she might not have seemed so nuts. You get the feeling Syd Barrett could have walked into the place (she does talk delicately of having a guitar and singing) and getting her out of there. But then I get my head out of those clouds and remember how Edie and Syd ended up. Is Julia better off? Is she really experiencing life? A life that might become "normal?" And should she ever even have to live a "normal" life? Why should she? Since we tend to mythologize crazy people, especially from the late '60s early '70s counter-culture, it's a good question. But looking at our current overly medicated society, in which people pop Prozac and Lexapro and Wellbutrin or whatever is readily available instead of simply enduring some hardships and perhaps, learning from them, I champion these people. These people with real mental illness. Mental illness is hard. And it's tough, if not impossible to find your way out of that Shining-esque topiary maze. But that beautifully scary place can somtimes provide insight. And maybe you need a human hand, even a "crazy" hand, to guide you through -- or remain lost forever -- at least some kind of understanding.   
Which leads me to another compelling, heartbreaking moment -- when a young tenant's father arrives to fetch him for indefinite time away. Talking to the film's resident therapist and rent collector, he admits to hiring his son a girlfriend (not a very pretty one, he points out) with the hope that she'll give him the extra confidence to "hold his chin up" and feel like a man. Fearing his son will go the other way without some female companionship and clearly, failing to understand the depth of his son's problems, we watch the suited-up son leave after he's shyly informed others his desire to stay. He's too afraid to tell his father.
Watching the personalities emerge as they work chores, prepare food or...write on the walls creates the film's "characters" within its loose structure. Omitting any opinion concerning Laing's procedures, the film demands that you study it yourself, deciding if you think this kind of living is actually helping these people.
With my modern entertainment mind thinking toward banal Reality TV, I couldn't help but consider how much more interesting these people were than the generic faced dolts on shows like Big Brother and wished the picture were an actual series. As the people of Archway are "crazy" they are not constantly acting up to the camera and often appear oblivious to the two-man crew. If focused on, they appear to be talking as they probably always do and often give the impression of bemusement. With that, there's never a feeling of exploitation -- if they don't want to talk to the cameras, they simply walk on by. They're not seeking their 15 minutes. You certainly won't see that on Reality TV.
And sticking in the thoughts of Reality television, there's even a Survivor-like moment when the group has a meeting to, essentially, vote David off. But unlike the tricks of television, there's no closure and David stays (maybe) with an end discussion of his past jobs in computers and the military. Speaking, for once, in a lucid manner, you'll mull over the truth of his statements and, suddenly he doesn't seem so crazy anymore. In fact, after this mind expanding experience, the world seems crazy and sane all at once.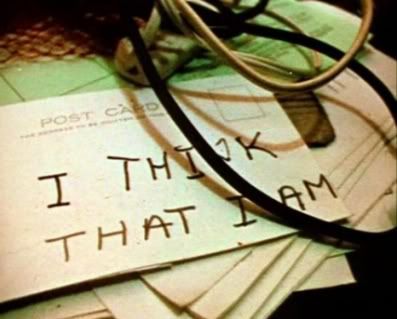 An important, affecting and masterful document, Asylum is a re-discovered treasure that demands viewing. Direct and powerful yet obtuse and mystifying, the film and its people remain etched in your mind. You'll watch them again, hoping to glean more and only to become frustrated when you cannot. Fittingly, the film's so good that it becomes...maddening.