I've watched so many damn movies on DVD and video that it's hard for me to rent or buy a film I haven't seen. I actually get depressed at the video store thinking, I wish I'd never seen Night Moves or My Man Godfrey or Born to Kill or He Ran All the Way or Pretty Poison so I could enjoy that feeling of discovery again. Like when I finally saw Cisco Pike on the big screen or when I tracked down a copy of Nicholas Ray's Bigger than Life -- I was in movie heaven. Grey market is my only playground.
So I was more than excited, I was awestruck when a film not only impressed me but threw me for the proverbial loop. That film was the soon-to-be and finally released (March 28, 2006) on DVD, Don't Deliver Us From Evil. 
Thank heaven for evil teenage girls. Or rather, intelligent, curious, complicated and probably sociopathic, teenage girls. Those sexily deviant Pretty Poisons, those homicidal pigtailed Bad Seeds, those mommy-murdering Heavenly Creatures, those traumatized pig-blood splattered prom queens, even those misunderstood little girl's who lived down the lane. Some are pure evil, yes, but, even in their wrath, revenge and sinister play, there's individualism; there's struggle, even if their actions are unhealthy, tragic and frequently malevolent.
Such outsider sisterly singularity is expressed heartily (and heartlessly) in the lesser seen French picture, Don't Deliver Us From Evil (1971), a potent dose of pretty poison presented in a wonderfully deceiving package. Never released in the United States and "banned" for blasphemy, the story of two teenage convent girls who "dedicate ourselves to Satan" could have taken so many obvious, over-sexed, easily violent, tedious turns. Instead, it's a work of beautiful, unnerving art.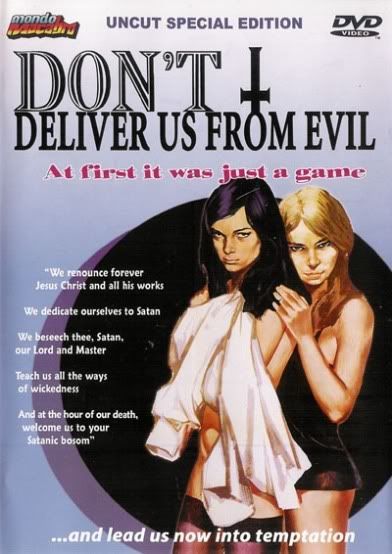 And yet it's still exceptionally sexy, disturbingly sexy to some, shocking and violent. But filled with so much mystery. Rather than slam together a T&A fest rife with demons, multiple slayings and loads of sex, Don't Deliver Us From Evil is working a different kind of voodoo. Observing the obsessive nature of female friendship in a horror milieu, its heart of darkness becomes something substantive and haunting, not just shocks and scares.
With its two best friends (played by Jeanne Goupi and Catherine Wagener) who suffer a dull, square world filled with hypocrisy, it begins with what many teenage girls are fascinated by — the forbidden. Hopped up by literature, the illicit, hellfire and all the stuff that's so intense when you're 15, the movie is a fiendish paean to the freaky bad girl — girls who, when staring into that bland void would rather, quite literally, burn out than fade away.
Inspired by the original Heavenly Creatures -- Pauline Parker and Juliet Hulme, two girls whose close friendship resulted in murder, Don't Deliver Us From Evil (French title: Mais ne nous délivrez pas du mal. Ah, if only Serge Gainsbourg would have written their theme song) studies a female bond that twists into Sapphic love, sadism and death. More subversive than Heavenly Creatures, first time director Joel Sera isn't afraid of blasphemy, in fact he seems to revel in it, with sequences in which his heroines spit out their Communion wafers like bubble-gum, glare at Priests and giddily spy on Nuns sucking faces and lord knows what else (bless them) in locked rooms.
Gorgeous raven-haired Anne (Goupi) represents sullen, narcissistic, teen power in all its selfish glory, while her best friend Lore (Wagener) is the shyer of the duo, the sweet-looking blonde swayed by her vixen comrade, and enjoying it. Gorgeous, inquisitive girls, they mark time at Catholic School by sneaking into bed with each other and reading erotic literature under the sheets. Which isn't so out of the ordinary. But, as mentioned, they are especially fascinated with evil. Not entirely strange considering their Catholic environment, but when they renounce Jesus Christ and all his works to become baby brides of Satan, they one-up typical Catholic schoolgirl sacrilegious naughtiness. And we, helplessly, applaud them for it.
Once school is over, they spend summer break together, sticking together, staying at Anne's parents home while her family is conveniently away. They ride bikes and flit around in those short cotton summer dresses every guy wishes for when the sun comes out and they laugh  — they laugh a lot, making them one of the loveliest pair of Beelzebub buddies. These girls are enjoying their evil. So much, that they put together a crafty, dainty black mass in an abandoned chapel with a dim groundskeeper serving as "Priest." There they seal their Satanic deal while driving the groundskeeper to distraction. As they all sit in a rowboat in the thick of night, he can see right through their cotton Communion gear. And so we can we. And it's a kinky kick and a little maddening.
Which is their intention — the girls get off on torturing men. Not in an overtly predatory way, but with abject, albeit, adorable sadism (yes, I really mean adorable sadism). But like all cheek pinching evil, these Bad Seeds push it too far with their sexual taunts. First they tease a cow herder to the point of insanity — leading the man to nearly rape Lore. Next, they cruelly murder the groundskeeper's bird, a startling, tragic moment. Watching him weep over the loss of one of his only companions in the world, they laugh at this poor man. (In an interesting bit of complexity, they later feel conflicted about this act.). And still, next, they allow a stranded male motorist into the house. Not safe. But that's the fun. They strip down to their panties and . . . well, that guy is not about to take no for an answer.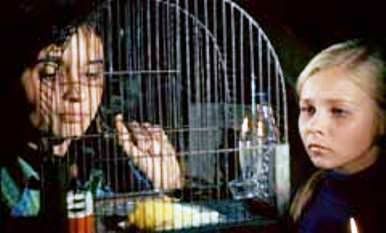 Like every good/bad girl these two take it five, six, seven steps over the line. If this all sounds overly exploitative, it's not. Filmed with a painterly touch, the picture's lush cinematography is startling beautiful — from the pastoral shots in the country, to the lanterns lighting a night-time boat ride, to the unforgettable, outrageously horrifying and yet gorgeous final scene (which, I can't discuss — I'll just say it involves Baudelaire, and one hell of a school talent contest). The poetic impact palpable and unforgettable.
The actresses are natural and weirdly sympathetic, even when they disturb, and are indeed sexualized. If their youth appears troubling, like David Hamilton gone horror, the actresses are of legal age (in America). The characters are not. But the movie knows what it's doing — it knows the disconcerting nature of watching blooming girls getting their clothes torn off. And yet these actresses never feel like they've been taken advantage of. Since this story is for them, and really, for anyone questioning faith and rules, the director seeks a deeper aim than mere titillation. And while I've discussed a lot of hot moments, the picture never revels in sex and violence (it's almost bloodless, in fact).
Instead, it's about teenagers alienated by their parents, the stultifying systems of morality and the moral and sexual confusion of adolescence. Sometimes our bodies tell us to do bad things — in this case very bad things — and sometimes religion makes us want to do them even more.
I love movies that can balance perversion with ample examinations of ideas and, in the case of this picture, crawl under your skin just enough to make you feel guilty, complicit, even, with the character's intentions. While giving a big fat sacrilegious middle finger to the Church, the movie's general ambiance is oddly delicate while being menacingly rebellious. In its intoxicating, magical way, you really fall in love with these girls. That feels mischievous and, quite simply, a little evil. 
Track down the lovingly restored, extra-laden Uncut Special Edition from Mondo Macabro