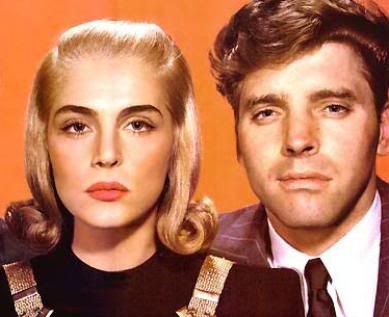 Through the heat, the early mornings and my broken down car, the Palm Spring Film Noir Festival remained great fun and a wonderful success. Thanks to the efforts and talents of Marvin Paige, Alan Rode, Foster Hirsch and the great Eddie Muller, the event was a big score. Some excellent pictures were screened, as all noir should be screened, writ large, and I finally got to see another John Garfield (a genius, and one of my favorites) movie on the big screen (The Breaking Point -- one of his greatest, most heart-breaking performances). I also introduced two fascinating pictures -- the incredibly rare Inside Job, starring Ann Rutheford and the final film credit by Tod Browning. I was lucky to interview Ann who hadn't even seen the movie herself. She discussed the film somewhat, but mostly regaled us with wonderful Hollywood stories, like swimming lessons from Buster Crabbe, working with John Wayne, her role in Gone with the Wind and Errol Flynn's monkey.
I also presented the gloriously insane/exceedingly homo-erotic Desert Fury (directed by Lewis Allen) starring Lizabeth Scott, Burt Lancaster, John Hodiak, Wendell Cory and a wonderfully ball-busting Mary Astor. A desert noir where, excuse me, did I say homo-erotic? It was just flat out homosexual. How it passed the censors of the late 1940's is beyond me -- maybe the beauty of the rich, glorious technicolor and Scott's flaming red lips had them sidetracked.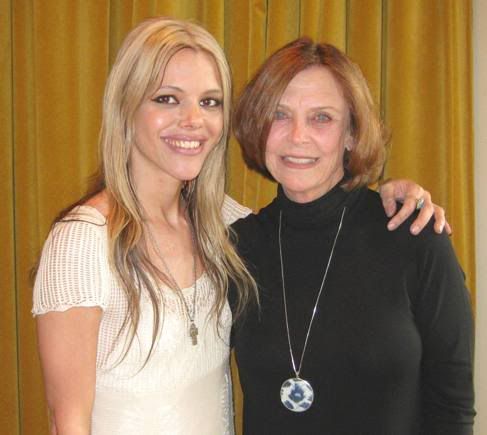 And then... The Bad Seed -- a thrill for me (I've written about the movie too many times to count) with that icon of blonde evil, Patty McCormack as special guest (you have no idea how excited I am in the above photo -- posing with my overlord). Her brilliant performance received a standing ovation -- the audience was galvanized by her brat and thrilled to actually have Rhoda Penmark in the building.. Talking with her (she most recently played Pat Nixon in Frost/Nixon) and trying to shield her from the mob of fans, she was relaxed, funny,down to earth and beautiful. More work for Miss McCormack please!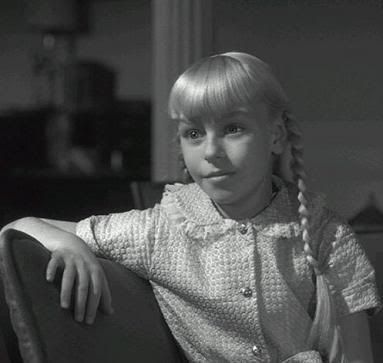 There were more films on the roster, including Vincent Sherman's impressiveve The Garment Jungle (starring Lee J. Cobb, Gia Scala, Richard Boone and a young, strapping Robert Loggia who was in attendance). Loggia was very honest about his career, some of his mistakes, and told an incredibly amusing story about getting his part in David Lynch's Lost Highway. Let's just say his real-life rage towards Lynch worked in his favor. He was also quite the charmer in person.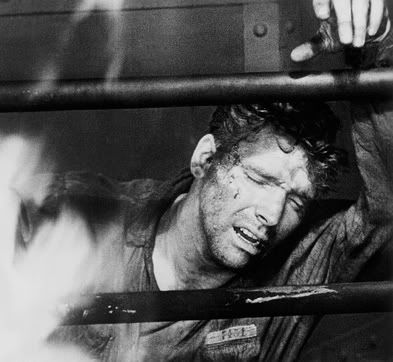 There was also Robert Siodmak's classic Criss Cross, Jules Dassin amazing Brute Force, Joseph Pevney's Female on the Beach (with Joan Crawford), Richard Fleischer's terrific, gritty Armored Car Robbery, Michael Curtiz's The Breaking Point (the greatest version of Hemingway's's To Have and Have Not -- as agreed by all of us at the festival), and of course Eddie Muller's The Grand Inquisitor, starring the ever talented Marsha Hunt, who also offered a fascinating conversation following the picture (I interviewed her last year, and she is a fountain of knowledge -- in film, in literature, in current events, in fashion -- and she is a hero -- blacklisted by HUAC, she refused to name names). And closing the festival -- Thief -- Michael Mann's splendid, gorgeous neo-noir starring James Caan and love-of-my-life, Tuesday Weld.
Thanks to Eddie, Foster, Alan and Marvin. Thanks to those men who made the cookies at The Chase Hotel. And thanks to all the fans of noir who attended. I love talking to the viewers, and spent many moments in the lobby, in the theater, even in the ladies room discussing noir with audience members. I'll never forget the couple who gave me a birthday card when I let it slip that my birthday was the same day as their son's. You two are the best.
Here's a sample of some of the fest -- sitting with Miss McCormack after taking in The Bad Seed,  walking out with Robert Loggia who is being...Robert Loggia. And a snippet of me presenting Desert Fury in coded ways -- not simply saying, this is the most homosexual picture of the 1940's. I didn't want to ruin the surprise.