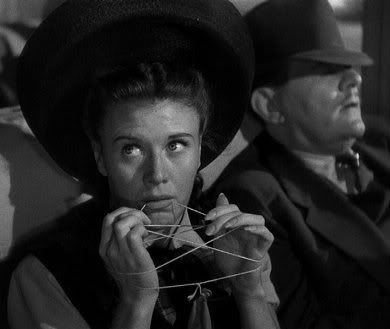 I just woke up on the train. Spying the snow-capped beauty of Eastern Oregon at five in the morning was gorgeous, yet another reason why rail travel (next to road trips) is my favorite mode of transportation. I'm heading north for the holidays, and I loathe flying, so this is how I, as they say, roll. Or chug. I love trains.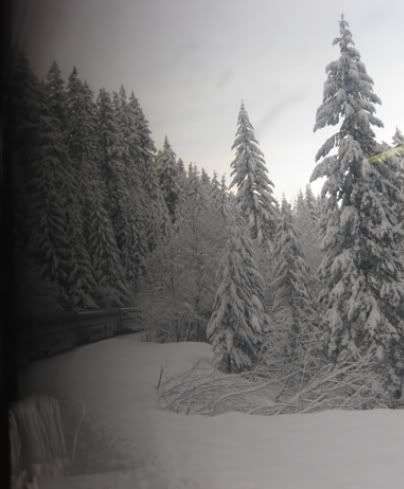 I love moving directly near the California Ocean, winding through the freezing, sometimes scary highly elevated mountains (like the above photo I took of the train winding around the mountain). I love experiencing the pitch black darkness of train tunnels (there's nothing like those), thinking about George and Lennie as we hit Salinas, running to the frigid train station in Klamath Falls just because everyone else is taking a smoke break, and talking to porters. Porters are an old breed and I hope to god they never go away. Plus, my porter brought me chocolate and an orange and a small bottle of champage. Have to like that.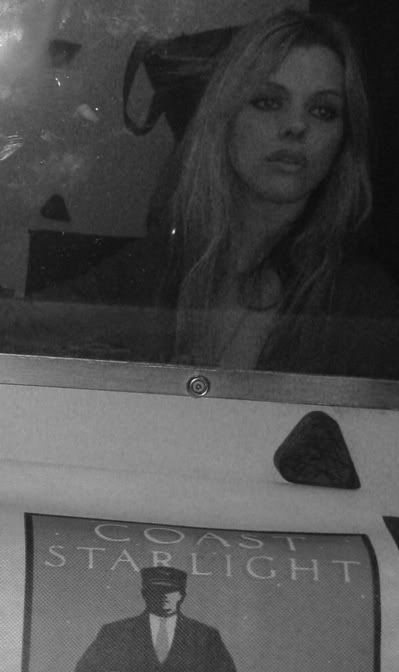 And then there's the sleeper car (where I snapped myself above -- in my fuzzy mirror). I read, I sleep, watch movies, I stare at the wilderness, the small towns and all of those wonderfully broken down but charmingly older areas that are known as "the wrong side of the tracks." Junkyards have never looked so romantic (I wish O. Winston Link could travel with me). And with the dining car, the train also allows one to meet all kinds of people, some nervous fliers, some on a choo-choo pleasure cruise, some who always seems to have something in common with me (this trip, it was a military kid from 29 Palms wearing an Iron Maiden tee shirt and who explained that all of those amazing orange fireballs I saw in the sky a few months back in nearby Joshua Tree were actually from the military testing he was involved in). And then there's boy scouts -- everywhere. And then there are the train crazies. Beyond the level of say, Neil Young's train fetish. The best was a train fanatic I met two years ago who talked trains non stop...every train in the Amtrak line, train movies, model trains, train photographers and on and on and on. He was not obsessed, but possessed by trains. I thought he might stab me in my sleep after I told him I didn't care for The Polar Express.
So traveling by train got me thinking (again) of some of my favorite train movies. There's, of course the great, Strangers on a Train (Robert Walker might be one of the most perversely freakish/oddly likable villains in cinema history) but also one of my favorite action packed noirs, The Narrow Margin (with hot Charles McGraw), The General, The Great Train Robbery, so many Westerns including, of course, The Wild Bunch. Then there's The Train, Closely Watched Trains, Runaway Train, Sullivan's Travels, The Darjeeling Limited, Human Desire, The Lady Vanishes, and so, so many more (don't hassle me about not including all, it would take forever, I know train movies, and I'm writing quickly on a train in a spare internet window, honestly it's going to drop any minute -- but please offer more suggestions). I also thought of some of my favorite train sequences like the train dump in Double Indemnity or the meet cute, soon insane seduction in Leave Her To Heaven, or that erotic/funny train journey in Some Like it Hot, but also from clear train lover Billy Wilder -- his sexy, Lolita-esque The Major and the Minor in which a comely Ginger Rogers pretends to be 12-years-old for cheap train fare. In a funny, sexy and subversive twist, she ends up sleeping in Ray Milland's roomette. He thinks she's 12 and he's looking out for her but he's also...looking at her.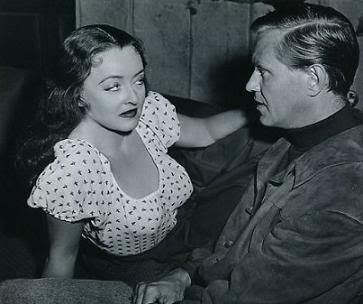 And then there's Bette Davis' obsession with the train in the supremely underrated Beyond the Forest in which the narrator states that every time Davis' unhappy wife hears it chug through her tiny, boring town, all she can hear is "Chicago, Chicago, Chicago." That's the city where she cheats on her husband and thinks her life will change, but instead gets knocked up and throws herself down the side of a mountain to get rid of the dreaded baby. Even worse (spoiler alert) she dies right next to the train when, riddled with peritonitis, she stumbles through the town towards the lure of the train humming: "Chicago, Chicago, Chicago." Brilliant.
But on the more romantic side, there's the most obvious -- North By Northwest, which boasts one of the hottest train sequences ever put to celluloid. A cool Eva Marie Saint stashes Cary Grant in her car, hides him from the police and promptly seduces him. While in her sleeper, she asks Grant: "Maybe you're planning to murder me right here tonight?" And he answers, "Shall I?" "Please do," she says before a passionate kiss. He tops the steamy moment with, "It sure beats flying." Yes it does indeed.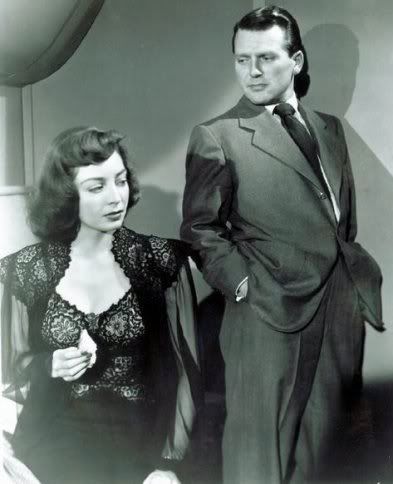 Sadly, I did not experience such a scenario on the train (and no Ray Milland or Charles McGraw, or...what the hell, Robert Walker) but I will say this, the rumbling sound as you sleep, the exploring (once, I sneaked into the kitchen one night after missing dinner in the dining car) and walking through those loud connection doors is, well, as sexy as hell. No wonder so many songs glorify trains ("Mystery Train," "Orange Blossom Special," "Night Train," "Love in Vain" and Johnny Burnette's wonderful ode to screwing his girlfriend all night with "Train Kept a Rolling" as well as John Lee Hooker's ). As the glorious Theresa Russell pouts in Nicolas Roeg's misunderstood Track 29: "Chugga-Chugga-Choo! Choo!" I hear ya Theresa.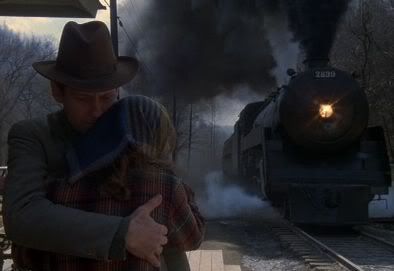 Please read my main site, Sunset Gun.